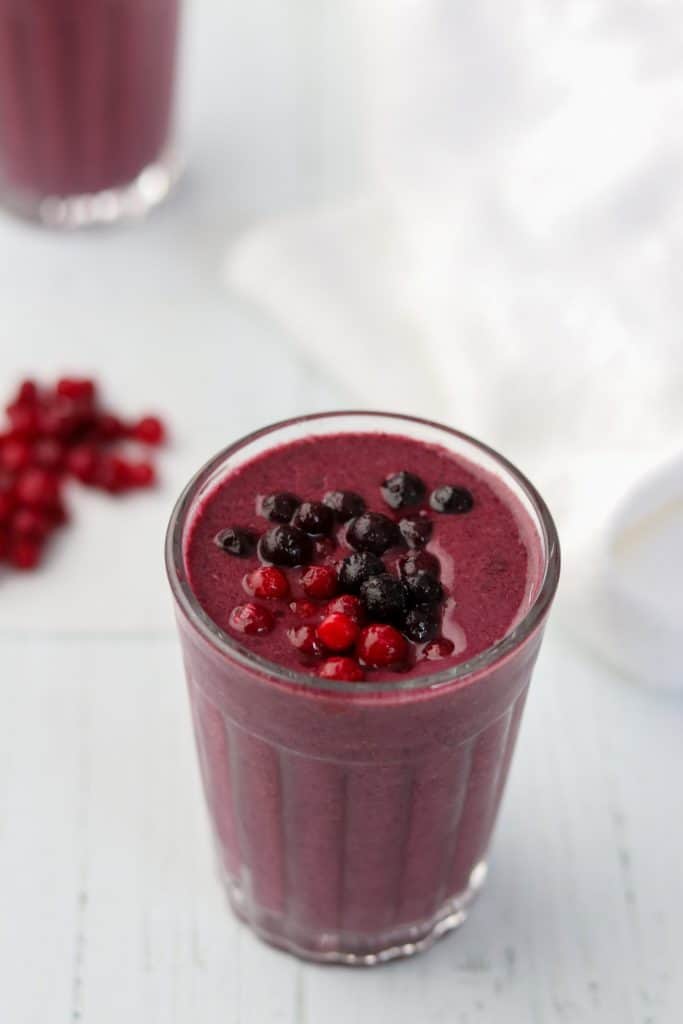 I've been on a smoothie kick lately. Mangoes, kale, beets, apples, ginger, fresh tumeric....if it's a fruit or vegetable, I've probably whirled it around in my blender over the last month. Sometimes I'll enjoy a smoothie for breakfast, but more often than not I've been making them for an afternoon snack. It's the perfect thing to tide me over until dinner without ruining my appetite.
This Nordic Wild Berry Almond Smoothie is one of my favorites. I almost always have the ingredients on hand and it takes just a few minutes to blend together. AND it's just another way to get lingonberries, those lovely jewel-like berries from the north, into my diet.
What are Lingonberries?
Lingonberries are small, red wild berries that grow on low-lying evergreen bushes in the boreal forests and Arctic tundra of the Northern hemisphere. They are very tart in flavor, much like a cranberry, which is why they are almost always paired with some kind of sweetener before eating. Lingonberries are a common ingredient in Nordic cuisine and are often consumed in baked goods or the form or jam, preserves or juice.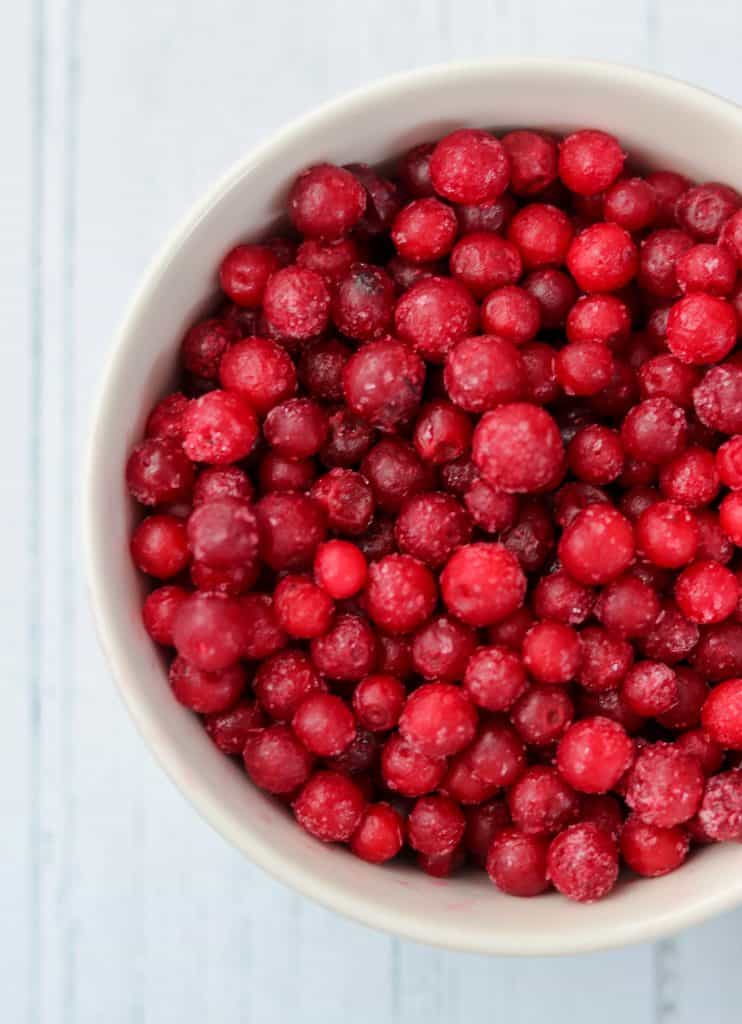 Stirred lingonberries, a simple mixture of lingonberries and sugar (sometimes cooked, sometimes not) are frequently enjoyed as a sort of sweet relish that accompanies both sweet and savory Nordic dishes. You will find stirred lingonberries served alongside Swedish meatballs and crispy potato pancakes, and spooned over buttery Swedish pancakes.
The Health Benefits of Lingonberries
Lingonberries are considered one of the most nutritious berries in the world. The health benefits include:
High levels of antioxidants. Tests reveal that lingonberries contain twice the level of antioxidants found in cranberries and four times that found in blueberries. These high levels of antioxidants make lingonberries a powerful anti-inflammatory and give them the potential to improve heart health, cognitive function and prevent certain types of cancer.
Lingonberries have antibacterial, antiviral and antifungal properties and have been historically used to make tinctures and medicine.
Much like cranberries, lingonberries are frequently used to prevent and treat urinary tract infections naturally.
Lingonberries have been shown to have a positive impact on the microflora of the digestive tract.
They have even been linked to a reduction in the appearance of age spots.
Where to Find Lingonberries
Here in the United States, fresh lingonberries can be very difficult to find. Frozen lingonberries are available, especially if you live somewhere with a strong Scandinavian cultural presence (I buy mine at Ingebretsen's Nordic Marketplace in Minneapolis, Minnesota or from www.sturdiwheat.com). You can also find preserved lingonberries or lingonberry jam on Amazon or even at your local grocery store.
This easy Nordic Wild Berry Almond Smoothie is a delicious way to enjoy lingonberries without pairing them with sugar or something rich and buttery, as lovely as that is! Frozen berries, banana, almond milk and a bit of almond butter and honey come together to create an antioxidant-rich concoction that is sure to get your day started off on the right foot. Looking for other ways to add lingonberries to your diet? I've got several delicious options here on the blog: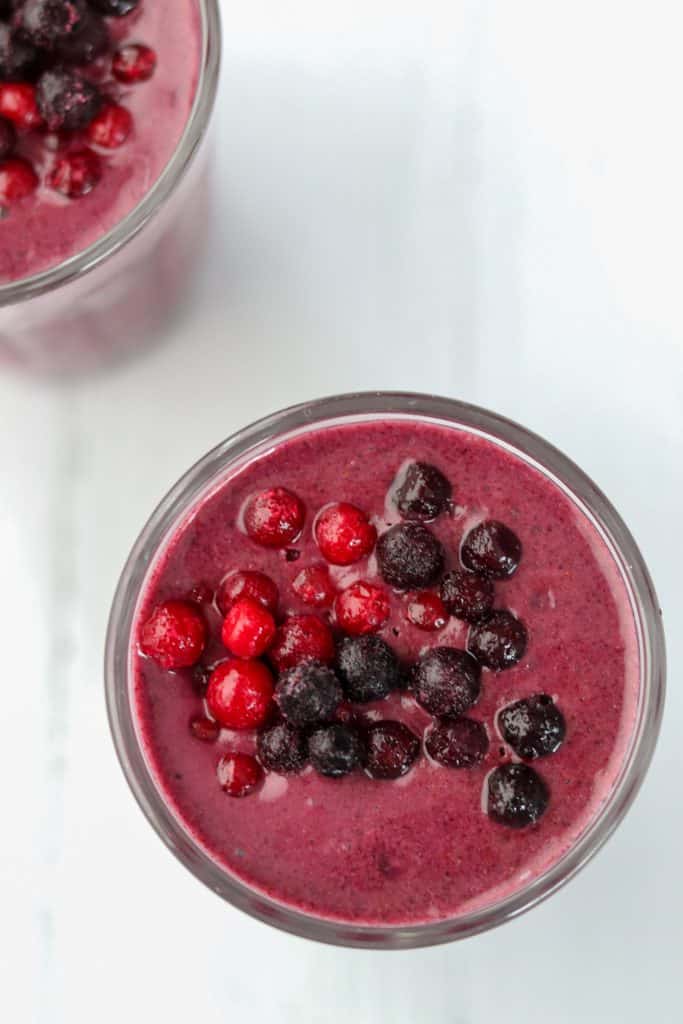 I hope you give this simple Nordic Wild Berry Almond Smoothie a try! It's one the easiest ways to add delicious and healthful lingonberries to your diet. And please report back in the comments below! I always love hearing from you.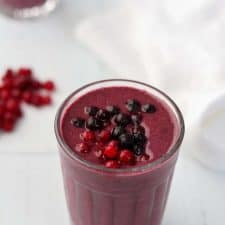 Nordic WIld Berry Almond Smoothie
A delicious and antioxidant rich vegan smoothie chock full of wild blueberries and nutritious lingonberries. A perfectly Nordic start to the day!
Print
Pin
Rate
Ingredients
¼

cup

frozen lingonberries*

see note below

2

cups

frozen wild blueberries

1

frozen banana

2

cups

unsweetened vanilla almond milk

1

tablespoon

salted almond butter

1

tablespoon

honey

more to taste
Instructions
Combine all ingredients in a high-powered blender such as a

Vitamix

and blend until completely smooth in texture.  Taste for sweetness and add more honey if desired. Serve immediately.
Notes
*If you can't find frozen lingonberries, use 3 tablespoons of preserved lingonberries or lingonberry jam and omit the honey.
Nutrition
Calories:
269
kcal
|
Carbohydrates:
50
g
|
Protein:
5
g
|
Fat:
8
g
|
Saturated Fat:
1
g
|
Sodium:
328
mg
|
Potassium:
385
mg
|
Fiber:
7
g
|
Sugar:
31
g
|
Vitamin A:
144
IU
|
Vitamin C:
26
mg
|
Calcium:
344
mg
|
Iron:
1
mg