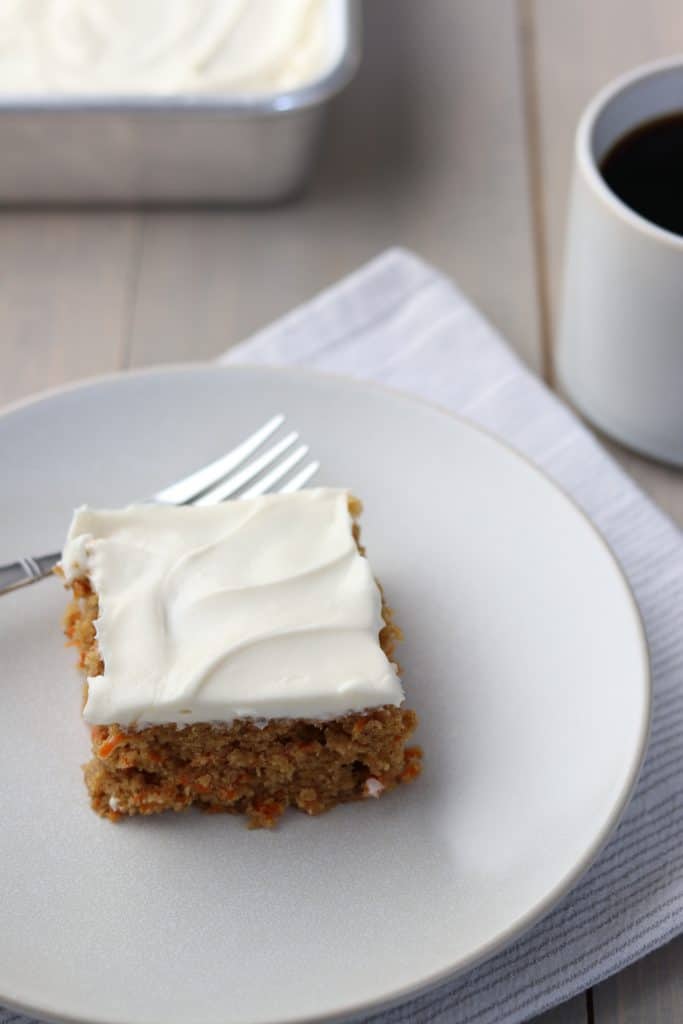 I associate carrot cake with springtime. Even though I can easily buy carrots 12 months out of the year, NOW is when my thoughts turn to carrot cake. Does it have something to do with Easter? Bunnies (and by extension their beloved carrots)? I honestly don't know, but last week, right on schedule, the craving hit and I set out to develop a recipe for an easy, delicious carrot cake.
Something to know about me as a baker....I lean towards the simple and rustic. You are not likely to find me in the kitchen painstakingly assembling a three-tier layer cake embellished with piped frosting and elaborate decor. While I admire this kind of work and will gladly eat it, it's just not my personal style. I like a cake that is easy to put together for an afternoon fika treat, something I can pair with a strong cup of coffee around 4 pm without having to do too much planning ahead.
Something to know about me as a carrot cake lover....I like to keep it basic. Just carrots, spices and that tangy cream cheese frosting. You can keep your pineapple, your coconut, your chopped nuts. I want a carrot cake that is the essence of simplicity. When I began developing my own version, I started with a recipe for Danish Carrot Cake from the Scandinavian baking bible, The Great Scandinavian Baking Book by Beatrice Ojakangas. It was an all butter recipe, which seemed like a good idea (many carrot cakes are made with vegetable oil rather than butter), and it was a simple 8 inch square cake that looked like it would come together quickly. Unfortunately, it wasn't quite what I was looking for. Pale in color, light on carrots and spices, it hardly seemed like a carrot cake. Back to the drawing board.
I began researching why so many carrot cake recipes have oil rather than butter. It turns out that oil has more fat than butter (butter is part water), and the oil gives the cake that moist, almost dense quality we associate with carrot cake. So canola oil in, butter out for this next round. I also doubled the amount of carrots and swapped out a portion of the regular sugar for dark brown sugar to improve color and texture. This version was much better. I was happy with the texture but the cake still lacked flavor. For my next round, I doubled the spices and the salt (the contrast of salt is essential for bringing out the sweetness in baked goods) and swapped out a portion of the canola oil with brown butter. You know brown butter....unsalted butter that has been melted over low heat until it becomes nutty and golden brown? It makes a wonderful addition to baked goods (try it in chocolate chip cookies), and I was hoping that it would add a little richness and flavor without compromising the texture of the cake which had so greatly improved when I swapped oil for the butter. Success! This final version boasts a dense, moist crumb, plenty of carrots and just the right amount of richness and spice. And don't forget the cream cheese frosting! It's absolutely essential in my opinion. As is a good, strong cup of coffee to go with it.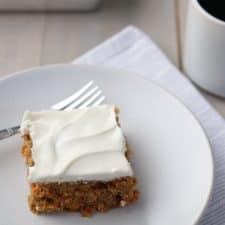 Simple Brown Butter Carrot Cake
A simple, perfectly-spiced carrot cake with luscious cream cheese frosting.
Print
Pin
Rate
Servings:
10
servings (one 8-inch cake)
Ingredients
For the Carrot Cake:
¼

cup

unsalted butter

1 ¼

cups

all-purpose flour

1 ¼

teaspoons

baking powder

½

teaspoon

fine sea salt

2

teaspoons

ground cinnamon

½

teaspoon

ground nutmeg

½

cup

packed dark brown sugar

¼

cup

granulated sugar

2

eggs

½

cup

canola oil or vegetable oil

2

teaspoons

vanilla extract

1 ½

cups

packed grated carrots

about 8 ounces
For the Cream Cheese Frosting:
4

ounces

cream cheese

½ of a block, room temperature

2

tablespoons

unsalted butter

room temperature

1

cup

powdered sugar

½

teaspoon

vanilla extract
Instructions
Preheat oven to 350 degrees.  Grease and flour an 8 inch square cake pan.

Place butter in a medium skillet (preferably not nonstick or cast iron so that you can more easily see the color change) and heat over medium low heat, swirling the pan frequently.  Once the butter has melted, continue to cook over medium low swirling the pan frequently until the butter has a nutty aroma and is golden brown in color.  Don't walk away from the stove!  Brown butter can go from perfect to burnt in a matter of seconds. Transfer brown butter to a bowl to cool.

Combine flour, baking powder, salt, cinnamon and nutmeg in a medium bowl.  Whisk together and set aside.

Combine eggs, brown sugar and granulated sugar in a large bowl and whisk until fully combined and no lumps of sugar remain.  Slowly whisk in oil followed by cooled brown butter and vanilla extract. Keep whisking until the mixture is emulsified and cohesive.

Add dry ingredients to wet ingredient and stir with rubber spatula until just a few streaks of flour remain.  Fold in carrots until mixture is just combined.

Using a rubber spatula, transfer cake batter to prepared pan.  Bake for 30-35 minutes or until a skewer or toothpick poked into the center of the cake comes out clean or with a few moist crumbs attached.  Set cake aside to cool.

Meanwhile, make the frosting:  Combine butter and cream cheese in work bowl of a stand mixer.  Beat with the paddle attachment on medium high until fluffy and fully combined, scraping down the bowl with a spatula as necessary.

Reduce speed to low and add powdered sugar.  Once it is combined with the butter and cream cheese, add vanilla extract and return mixer speed to medium high and beat until the frosting is light and fluffy, stopping to scrape down the sides of the bowl once or twice.

Once cake has cooled completely, spread frosting on top.  Serve.
Notes
Grate your carrots on the large holes of a box grater or using the grater attachment of your food processor. If you don't want to bother browning the butter, you can substitute ¼ cup addition canola oil for butter. It's important that your butter and cream cheese be room temperature it you want a smooth, luxurious frosting.
Nutrition
Calories:
383
kcal
|
Carbohydrates:
43
g
|
Protein:
4
g
|
Fat:
23
g
|
Saturated Fat:
16
g
|
Cholesterol:
63
mg
|
Sodium:
236
mg
|
Potassium:
121
mg
|
Fiber:
1
g
|
Sugar:
29
g
|
Vitamin A:
3619
IU
|
Vitamin C:
1
mg
|
Calcium:
69
mg
|
Iron:
1
mg