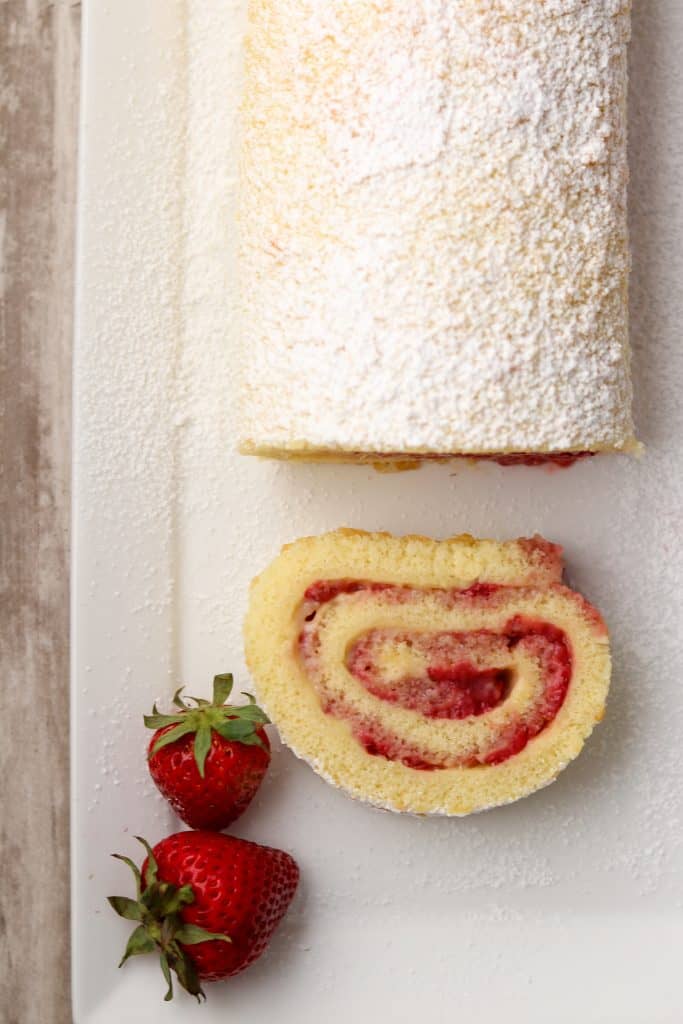 This Swedish Rulltårta is the perfect summer celebration cake. It's easy to make and assemble, but looks impressive with its lovely layers of golden cake, fruit and cream. And it can be made completely ahead of time, one of the best qualities in a dessert, in my opinion.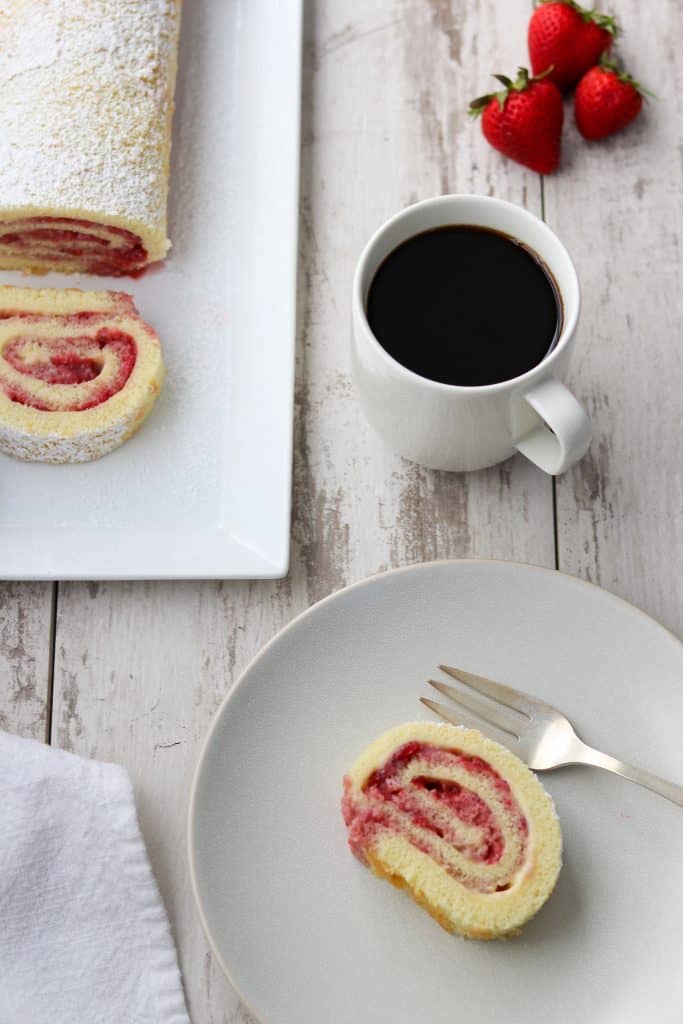 What is a Rulltårta?
A rulltårta is basically a Swedish version of the American jelly roll cake. A thin, tender sponge cake is wrapped around a filling, usually some kind of fruit preserve. I've taken things up a notch here by including a combination of vanilla pastry cream and homemade roasted strawberries for the filling, the same fillings that I use for my show-stopping Scandinavian Strawberry Cream Cake. These homemade fillings involve a couple of extra steps but quite worth it, I assure you. The classic pairing of strawberries and cream is wonderful in this cake.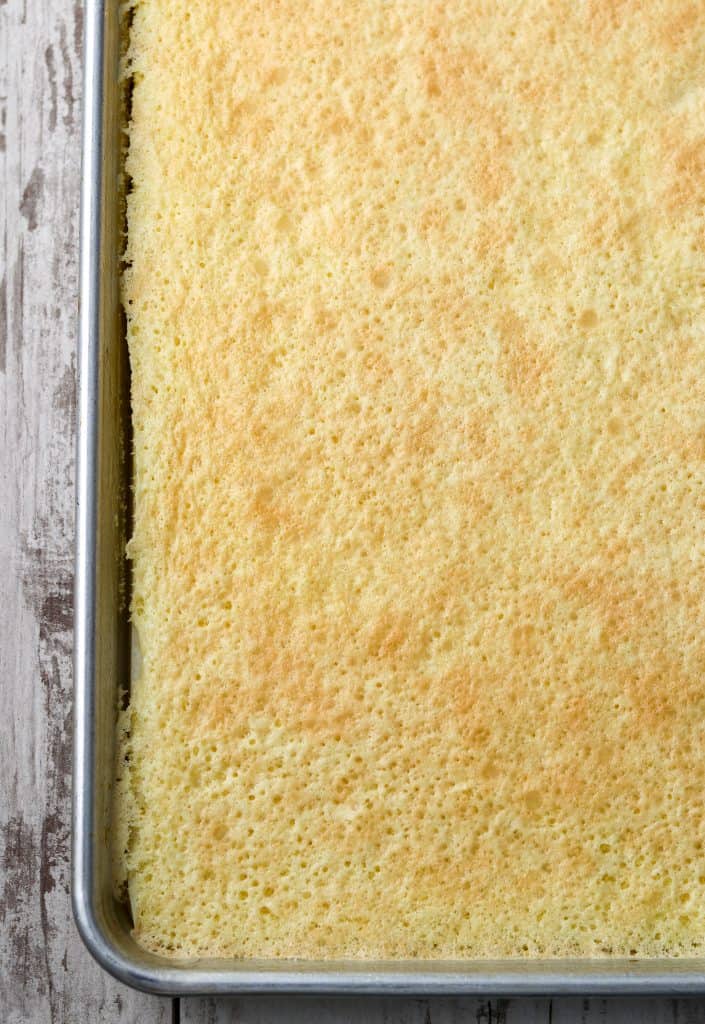 Making a Pliable, Delicious Cake
The trick with the rulltårta is that the cake itself must be pliable enough to roll up without cracking or breaking. Most recipes for rulltårta use a sponge cake which is heavy on eggs. The eggs help retain that flexible, rollable quality that makes this cake a success. But most sponge cakes do not contain any fat in the form of butter or oil, which can lead to a dry and, as the name would suggest, spongy texture. After trying a few of these and being a little underwhelmed with the results, I began doing a little research. I found a few recipes for jelly rolls that included a little melted butter in the mix and decided to give that a try. Success! I now had a moist, flexible cake that rolled up beautifully and had a lovely taste and texture.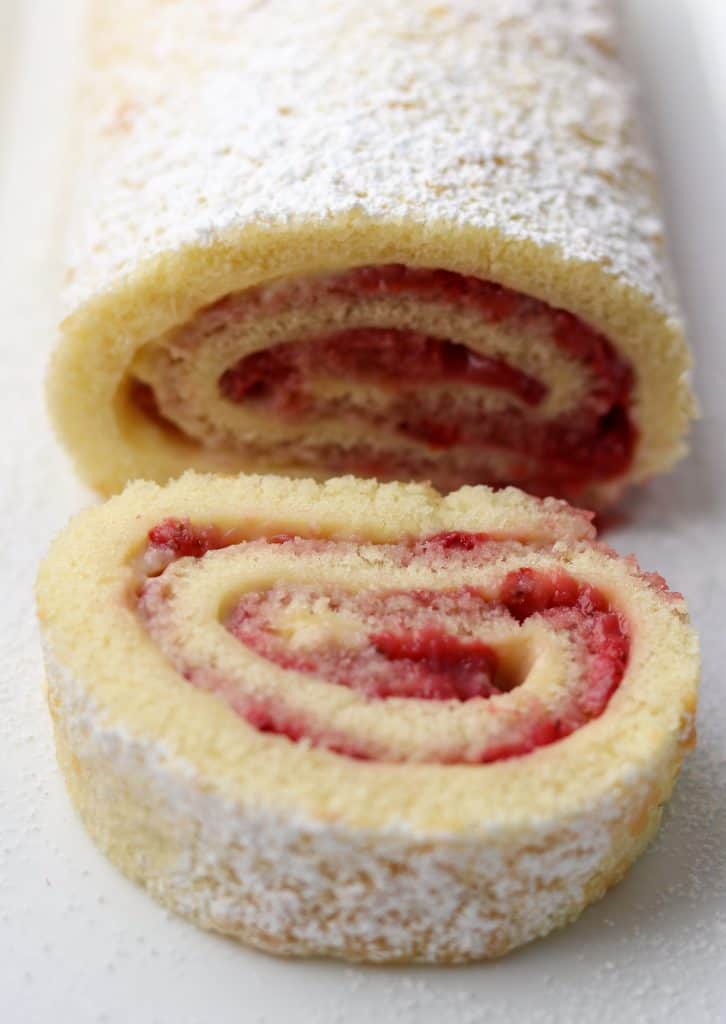 Successful Rolling Techniques
Once you get the hang of this rulltårta, it really is simple to put together. BUT, as with many baking projects, success comes from using the proper technique. Here are my suggestions for a successful cake roll every time:
Use the right cake recipe. As I said above, this cake is more pliable than most, thanks to the addition of several eggs. This flexibility is important to getting the cake to roll up nicely.
Use baking spray to prepare the pan, and make sure that it is spread evenly. This cake is baked in a half sheet pan (12 x18) and it will release easily if you spray the pan with baking spray, cover it with a layer of parchment and then spray the parchment. I then use my fingers or a brush to make sure that the parchment and the sides of the pan are evenly coated with baking spray. This will help keep the cake from sticking to the pan or the parchment after it is baked.
While it is still warm, roll the cake in a dish towel generously dusted with powdered sugar. This is an absolutely critical step. The cake must be rolled while it is still quite warm from the oven. It will crack and break if you try to roll it once it is cool. Since the cake is too warm to assemble with the fillings at first, it is wrapped in a cotton dish towel (NOT terry cloth) until it is cool enough to fill. This sets the rolled shape that we are ultimately looking for. The powdered sugar acts like flour here and keeps the cake from sticking to the towel.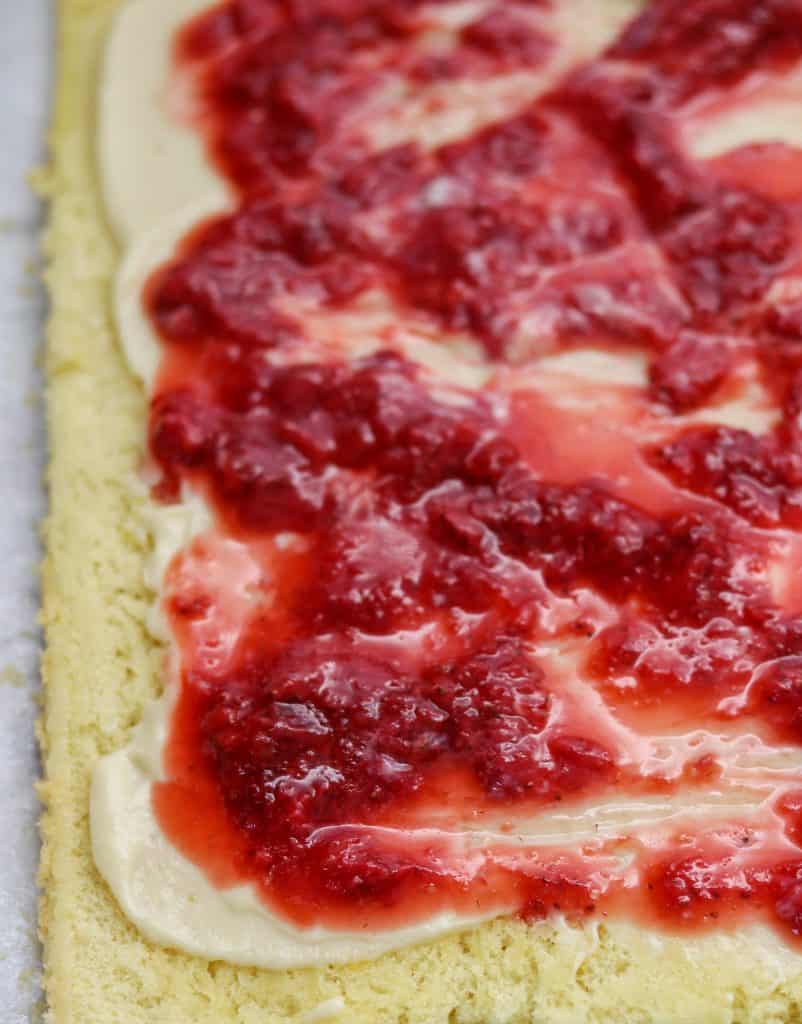 Once the cake is cool, carefully unroll it and spread your fillings on top, leaving a one inch border around the sides. For this recipe, it works well to put down a layer of vanilla cream and the strawberries on top. And don't overfill! A light layer of pastry cream and about a cup of fruit filling is really all you need. Otherwise it will just squeeze out the sides when you try to roll it back together.
Carefully roll the cake up, leaving the dish towel behind. This should go smoothly assuming that you were generous enough in your sprinkling of powdered sugar on the towel.
Transfer to a serving platter using a two spatulas, one at the top of the roll and one at bottom, on opposite sides of the cake. This is enough support to get it from the work surface to a pretty serving tray.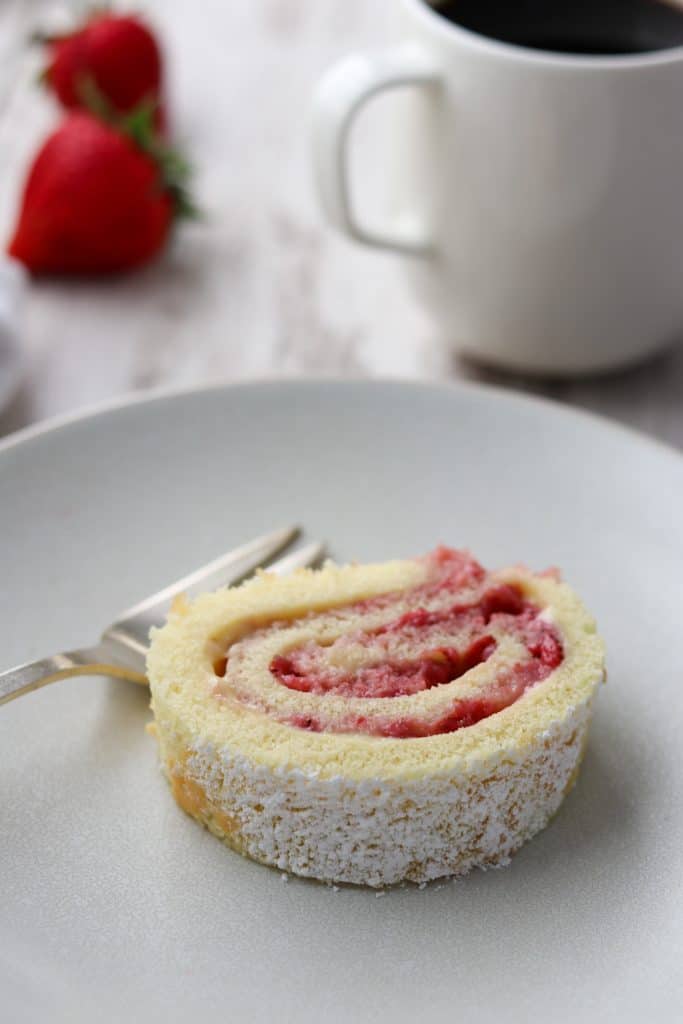 Other Filling Ideas
While this roasted strawberry filling is out of this world, you can easily vary this cake with the seasons as fruit availability changes. Other homemade fruit fillings for you to consider:
You could be making making different versions of this cake all year long!
I hope you give this cake a try during this strawberry season! It is so simple, delicious and beautiful! Please let me know if you give it a try in the comments below. I love hearing your feedback!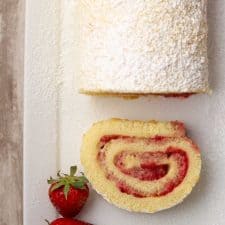 Swedish Rulltårta with Roasted Strawberries and Vanilla Cream
An easy and delicious rolled vanilla cake filled with roasted strawberries and vanilla cream.
Print
Pin
Rate
Servings:
9
servings (on 9-inch cake)
Ingredients
For the Cake:
¾

cup

granulated sugar

1

teaspoon

baking powder

¼

teaspoon

fine salt

4

large eggs

5

tablespoons

unsalted butter

melted and cooled

2

teaspoons

vanilla extract

1

cup

all-purpose flour
For the Roasted Strawberry Filling:
1

pound

strawberries

quartered

¼

cup

granulated sugar

Pinch

of fine salt
For the Vanilla Cream Filling:
2

egg yolks

1 ½

tablespoons

unsalted butter

1

tablespoon

cornstarch

1

cup

half and half or whole milk

2

tablespoons

sugar

Pinch

of fine salt

1

teaspoon

vanilla extract
Instructions
Make the Roasted Strawberry Filling:  Preheat the oven to 350 degrees.  Combine strawberries, sugar and salt in an 8 inch square baking dish.  Roast in the oven for 20 minutes.  Remove from the oven and stir briefly.  Return to the oven and roast for an additional 20 minutes.  Remove from the oven and allow it to cool slightly.  Mash mixture with the back of a fork or a potato masher until it is a jam-like texture.  Cover and refrigerate until ready to use.  Filling should be completely cool before assembling the cake.  (Filling can be made up to a week in advance).  

Make the Vanilla Cream Filling:  Whisk egg yolks, butter, cornstarch, half and half, sugar and salt together in a medium saucepan.  Place pan over medium low heat and whisk constantly until mixture is smooth and thick, about 3-5 minutes.  Strain mixture through a fine mesh strainer into a clean bowl.  Stir in vanilla. Place a piece of parchment paper directly on top of the pastry cream, followed by a layer of plastic wrap (this prevents the custard from forming a skin).  Refrigerate until you are ready to use.  (Vanilla Cream Filling can be made 1-2 days in advance.)

Make the Cake:  Preheat ovent to 350 degrees.  Spray a rimmed baking sheet (12x18) with baking spray and line the bottom with parchment paper.  Spray parchment with baking spray and use your fingers or a pastry brush to make sure the spray is distributed evenly around the top of the parchment paper and the pan.

Place the eggs, sugar, baking powder and salt in the work bowl of a stand mixer.  Using the whisk attachment, mix on low speed until foamy, about 2-3 minutes.  Scrape the bottom and sides of the bowl to make sure everything is incorporated.   Increase the speed to medium and whip for 4 minutes.  Increase the speed to medium high and whip until the mixture is thick and pale yellow in color, an additional 4-5 minutes.  Decrease speed to medium low and add melted butter and vanilla.

Remove the work bowl and, using a fine mesh strainer, sift flour over the top of the mixture.  Return the bowl to the mixer and mix on low speed until flour is just incorporated.  Remove the work bowl and the whisk attachment.  Use the attachment to whisk the mixture a couple of times by hand to make sure no pockets of flour remain.

Pour mixture into the prepared pan and even out the top.  It will be a thin layer of batter. Transfer to the oven and bake until the cake is firm and springs back when touched, about 12 minutes.

Let the cake cool for 5 or 10 minutes in the pan.  Run a knife along the edge of the pan and invert the cake onto a clean cotton dish towel (NOT terry cloth) that has been generously dusted with powdered sugar.  Peel off the parchment paper that was on the bottom of the cake while it was baking.  Starting with the short side of the rectangle, roll the cake in the dishcloth and allow it to rest for 15 minutes.

Carefully unroll the cake, and spread with the Vanilla Cream Filling, leaving a 1 inch border around the edges. It will be a thin layer.  Gently top with 1 cup of the Roasted Strawberry Filling.  Reroll the cake around the filling leaving the towel on the counter).  Trim the ends and transfer to a serving plate (two spatulas, one on either side of the cake, works well for this).  Allow to cool completely before dusting with powdered sugar and serving.  The cake can be assembled and refrigerated for several hours prior to serving.
Nutrition
Calories:
300
kcal
|
Carbohydrates:
42
g
|
Protein:
6
g
|
Fat:
12
g
|
Saturated Fat:
7
g
|
Cholesterol:
141
mg
|
Sodium:
155
mg
|
Potassium:
159
mg
|
Fiber:
1
g
|
Sugar:
29
g
|
Vitamin A:
466
IU
|
Vitamin C:
30
mg
|
Calcium:
85
mg
|
Iron:
1
mg