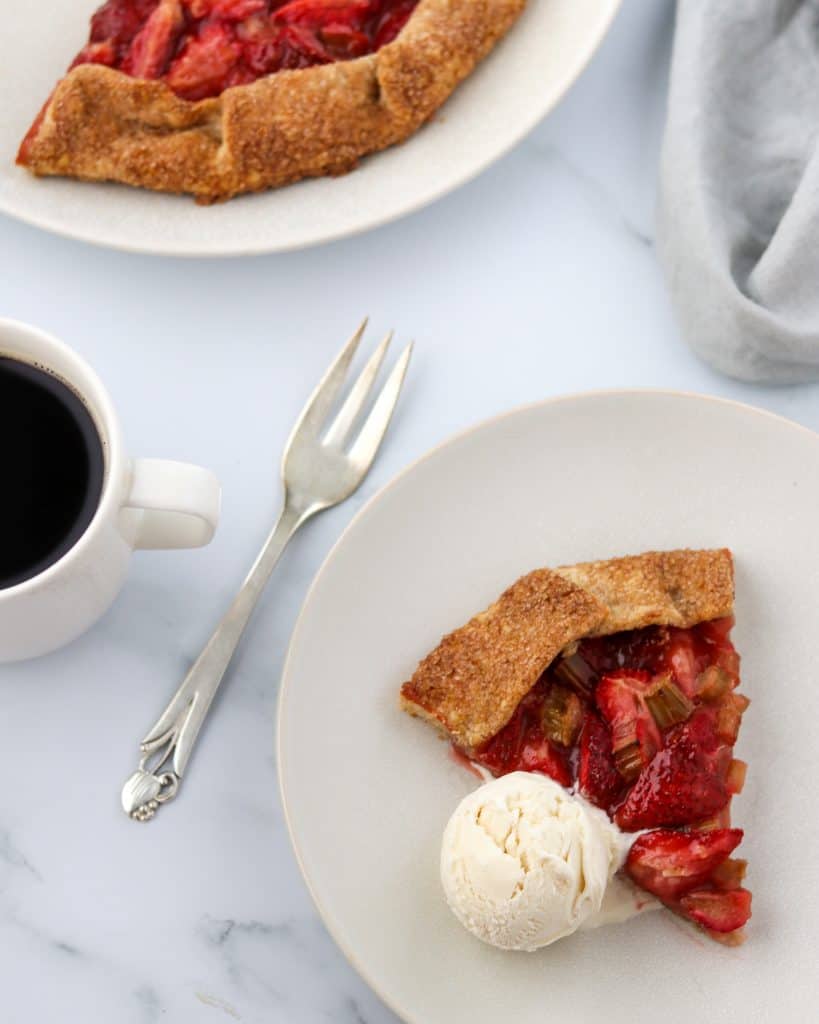 It is high season for both strawberries and rhubarb, and there is perhaps no better way to showcase the irresistible sweet/tart combination of the two than in a simple, rustic galette.
How to Make a Great Galette
A good galette is a lovely thing to have in your baking repertoire. Easier than a pie or a tart, a galette is essentially just a thin round of pastry dough topped with fruit and folded in on itself around the edges to encase the filling. It is a rustic, delicious and a simply charming way to showcase whatever fruit is in season.
I know pastry dough can be intimidating, but really, the process of making it at home is quite simple once you understand a few of fundamentals:
Use cold butter and ice water. If there was ever a word that was synonymous with good pastry or pie dough, that word is cold. Your ingredients, particularly the butter and the water, should be as cold as possible before beginning.
Work quickly. It is important to work quickly and efficiently to prevent the ingredients from warming up as you mix the dough together. Again, we want everything to be as cold as possible until the moment we slide our galette into the oven.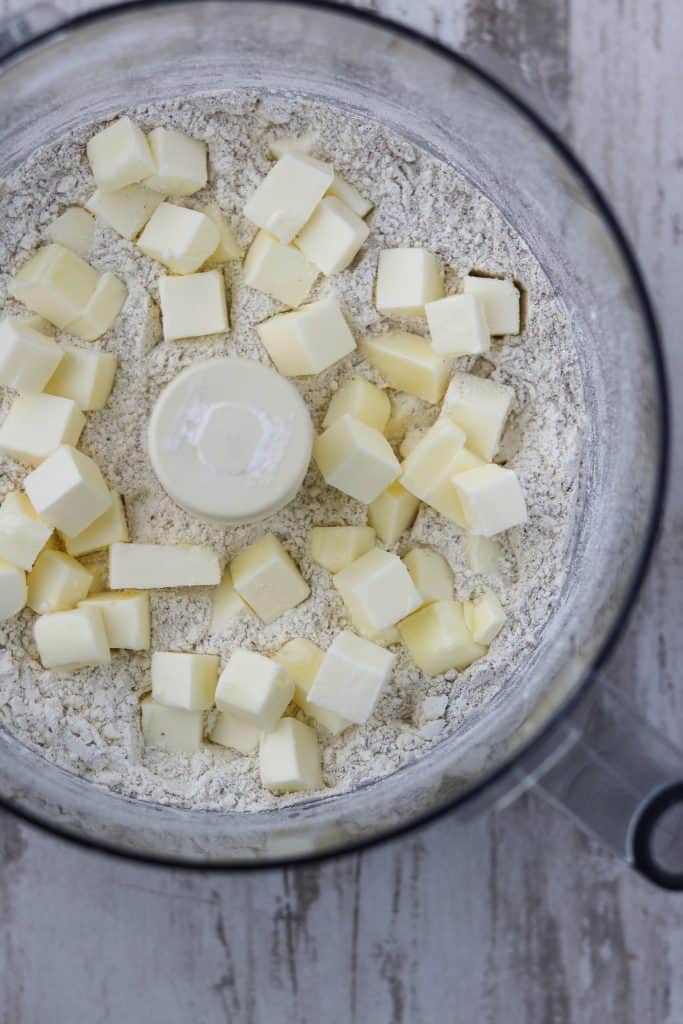 Cut the butter into the dry ingredients using a food processor until the mixture is like wet sand with some larger, pea-sized pieces of butter remaining. This should only take about 8-10 pulses. It's important not to overwork the dough here as those larger pieces of butter will create pockets once the dough is baked resulting in a more flaky texture in the final product.
Don't skimp on the chilling times. The rest periods built into the recipe are important for the dough to chill prior to the next step. Don't be tempted to shorten or skip this time in the refrigerator as it will ensure a deliciously flaky galette and an easy dough to work with along the way.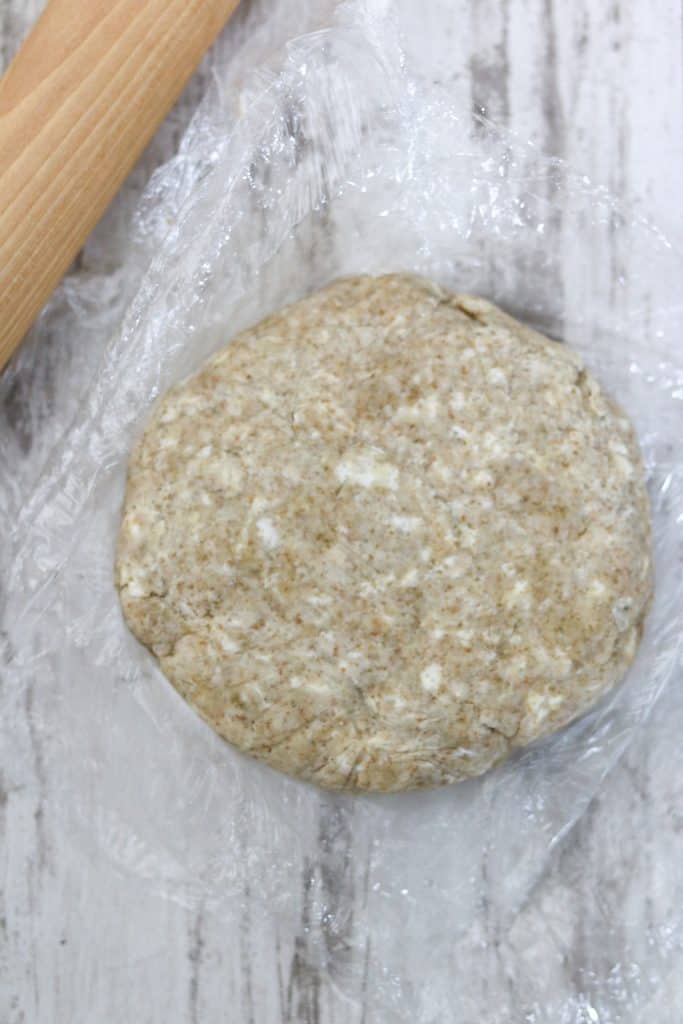 Roll the dough on a piece of parchment paper. This will make it much easier to transfer to a baking sheet when you are ready to do so.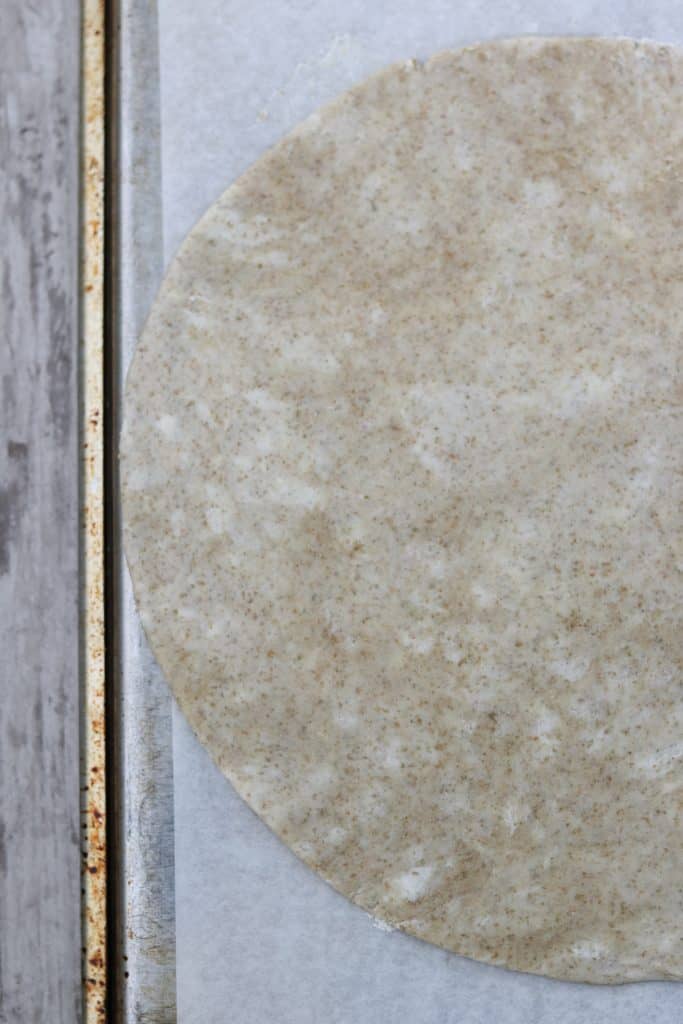 The dough should be firm but pliable when you roll it out. If the dough starts to get too warm and soft as you are rolling it will become excessively sticky and difficult to work with. If this happens, simply pop it back in the refrigerator until it is cool enough to work with again.
Trim the edges of the dough round with a pizza wheel...or not. The perfectionist in me likes those even edges around the outside so I go ahead and use a pizza wheel to trim any uneven spots. But, this is totally up to you. A galette is can be very attractive in a rustic way with an uneven edge as well. The choice is yours.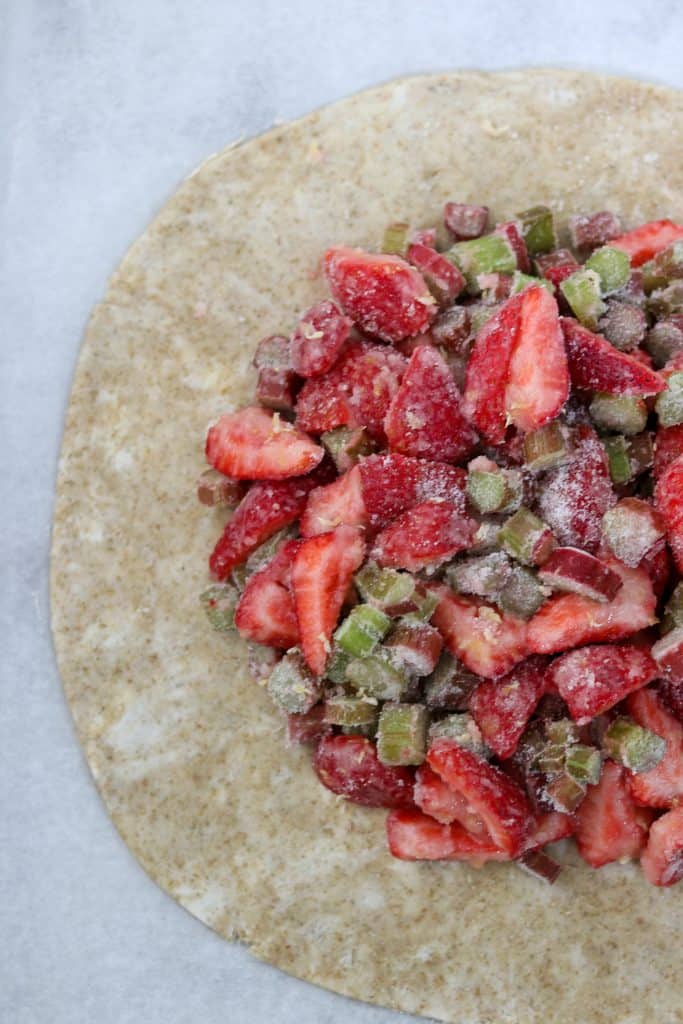 Leave enough of a border around the edge of the galette so that you have plenty of room to fold the dough over onto itself and contain the filling. The recipe calls for 1 ½ to 2 inches which should be plenty of room to work with.
Bring the border up onto the fruit filling, folding every couple of inches or so as you go. Press the folds together firmly to make sure they don't unfold in the oven.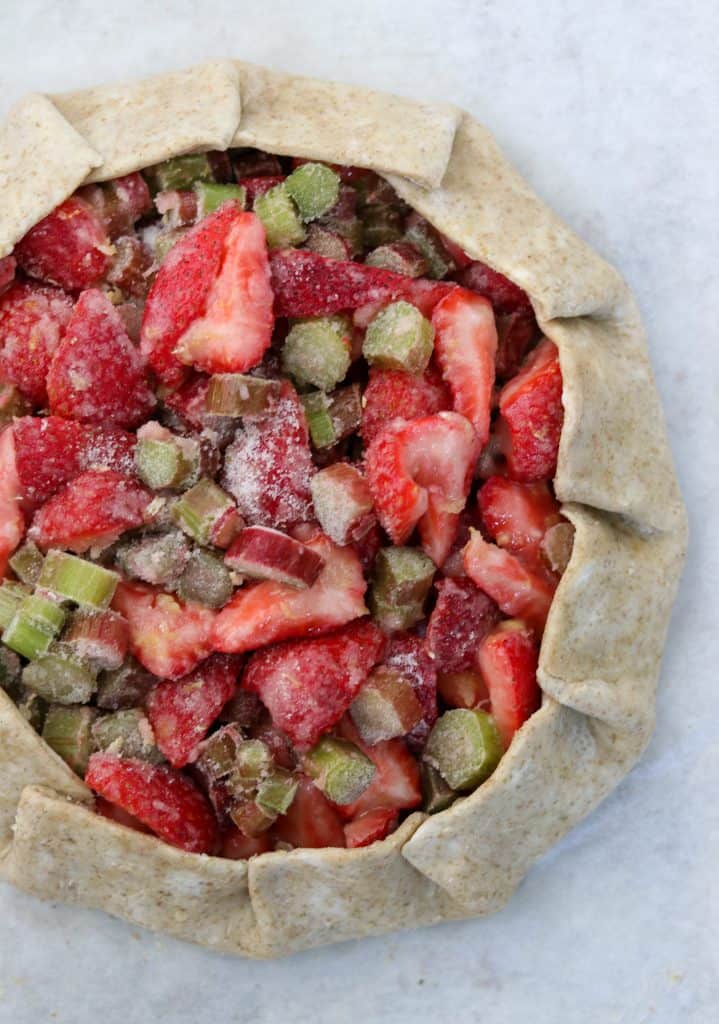 Brush the crust with an egg wash and sprinkle with turbinado sugar. Not only is this visually appealing, it also brings a welcome sweetness and crunch to the crust.
Once the galette is baked, brush the fruit portion with warm strawberry jam or jelly. This will give your tart a shiny, appealing appearance. If you are using a particularly thick or chunky jam, simply add a splash of water before you warm it up to help it loosen and brush on more easily.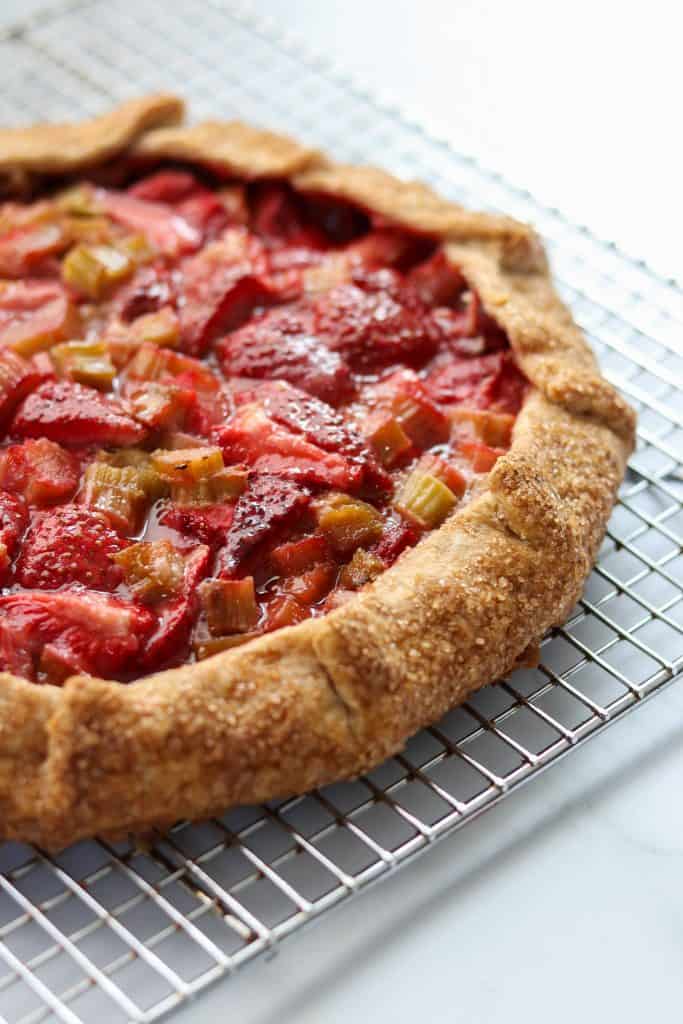 That's all there is to it! And thankfully, a galette is supposed to be rustic. That is part of it's charm. So if you are new to baking with pastry dough or the process intimidates you, this recipe is an easy and forgiving place to start.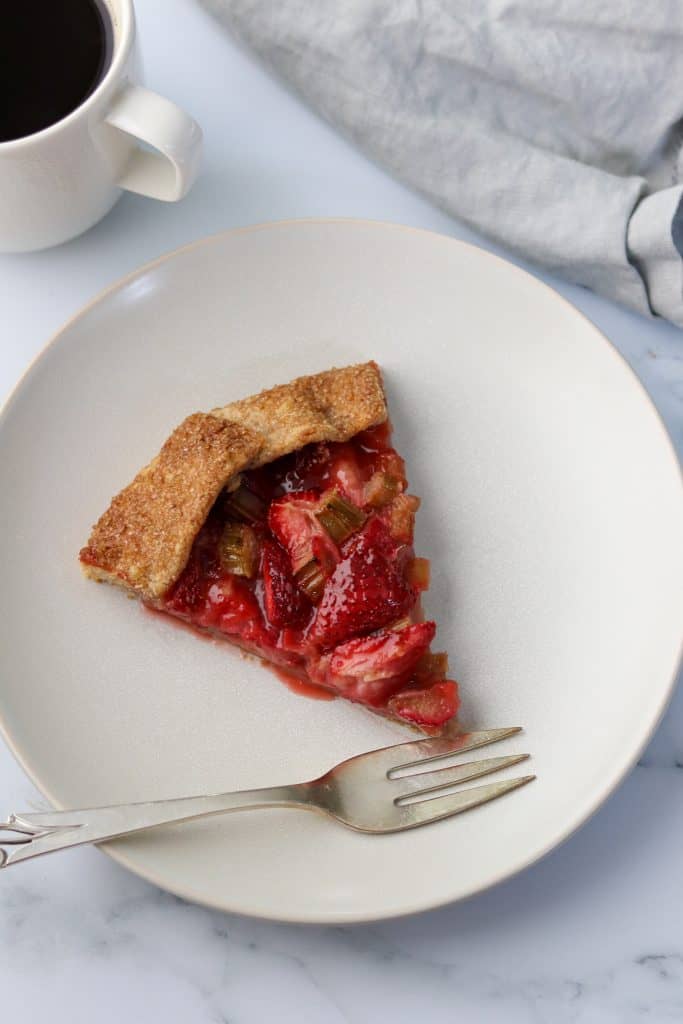 Should you find yourself wanting more galettes in your life, please try my recipe for Rustic Tomato Tart with Rye Crust! A savory version as opposed to sweet, this galette is a great way to showcase those ripe garden tomatoes that are just around the corner.
Looking for more strawberry rhubarb options? I've got a couple really yummy ones right here on the blog:
Please give this one a try! It is honestly one of my new favorites and I know you will love it, too.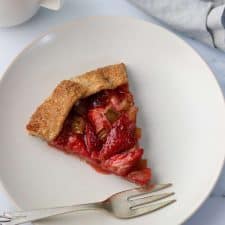 Rustic Strawberry Rhubarb Rye Galette
An easy free-form tart with rye crust and a delicious strawberry rhubarb filling.
Print
Pin
Rate
Servings:
8
slices (one 9-inch galette)
Ingredients
For the Crust:
1

cup

all-purpose flour

½

cup

dark rye flour

½

teaspoon

fine sea salt

10

tablespoons

cold unsalted butter

cut into ½ inch squares

6

tablespoons

ice water
For the Filling:
½

cup

granulated sugar

1

teaspoon

lemon zest

Pinch

of fine salt

3

tablespoons

all-purpose flour

2

cups

quartered fresh strawberries

1 ¼

cups

chopped fresh rhubarb
To Assemble:
1

large egg

turbinado sugar for sprinkling

1

tablespoon

strawberry jam or jelly

warmed briefly in the microwave or on the stovetop (add a teaspoon of water if your jam or jelly is thick in texture)
Instructions
Make the Crust:  Combine flours and salt in the work bowl of a food processor and process to combine.  Scatter butter cubes over the top of the flour mixture and pulse until mixture resembles coarse sand with a few pea-sized pieces of butter here and there, about 8-10 pulses.  Transfer mixture to a bowl and sprinkle the ice water over the top.  Mix with a fork and/or your fingers until no dry spots remain and the dough holds together when squeezed.

Transfer the dough to a piece of plastic wrap.  Gather into a ball and press into a disk, about 5 inches in diameter.  Chill for at least two hours or up to two days before rolling.

Preheat the oven to 375 degrees.  Transfer dough round to a piece of parchment paper.  Dust the top of the dough round with flour to prevent sticking.  Using a rolling pin, roll into a 12 inch circle.  Trim the edges with a pizza wheel if desired.  Transfer to an inverted baking sheet leaving parchment paper in place. Place in the refrigerator for 20-30 to firm up slightly.

Meanwhile make the Filling:  Whisk sugar, lemon zest, salt and flour together in a medium bowl.  Gently toss in strawberries and rhubarb until evenly combined.  In a separate small bowl, whisk the egg and 1 tablespoon of water together to create an egg wash.

Remove dough round from the refrigerator and place the dough round and parchment inside the rimmed baking sheet.  Top the round with the filling, leaving a 1 ½ to 2 inch border around the outside.  Fold the border of the dough inward over the filling so that it covers the filling by about 1 inch, overlapping the dough every couple of inches.  Gently press the folds in the dough so they adhere.  Brush with egg wash and sprinkle with turbinado sugar.

Transfer the galette to the oven and bake until the crust is golden brown and the filling is bubbly, about 50-55 minutes.  Transfer the baking sheet to a wire rack to cool.  Brush the fruit filling with the warm strawberry jelly or jam.  Cool to room temperature before serving.
Notes
If you don't have rye flour, you can use all all-purpose flour.
Nutrition
Calories:
294
kcal
|
Carbohydrates:
37
g
|
Protein:
4
g
|
Fat:
15
g
|
Saturated Fat:
9
g
|
Cholesterol:
58
mg
|
Sodium:
158
mg
|
Potassium:
158
mg
|
Fiber:
2
g
|
Sugar:
16
g
|
Vitamin A:
486
IU
|
Vitamin C:
23
mg
|
Calcium:
33
mg
|
Iron:
1
mg