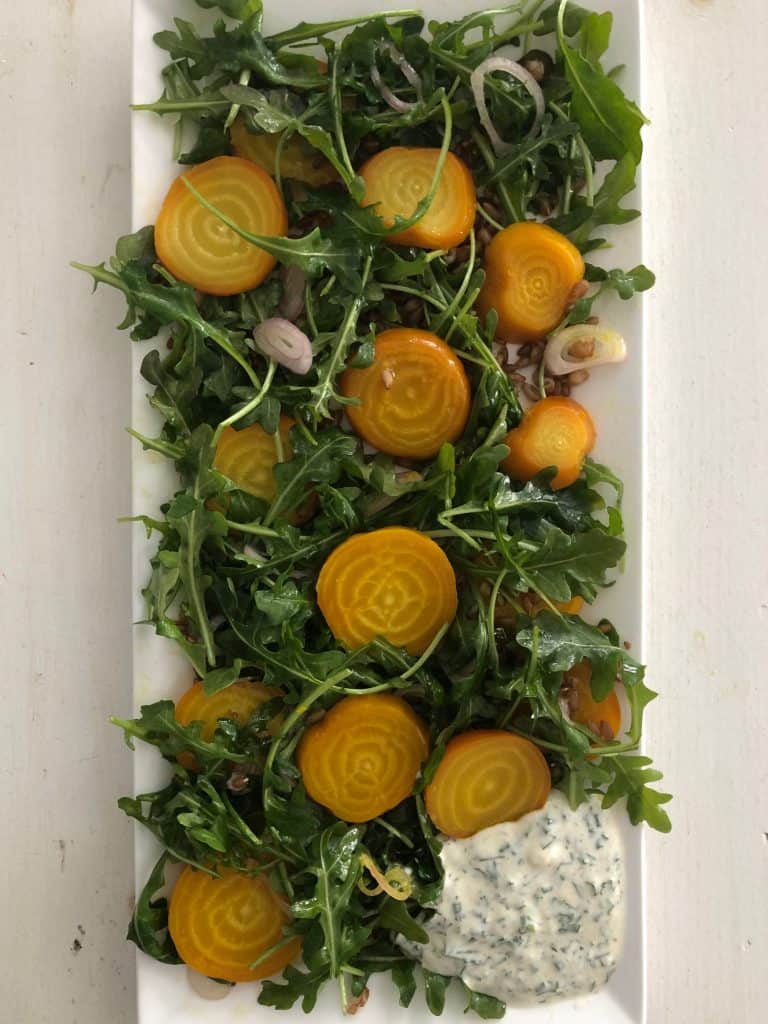 The Nordic region is famous for its wide array of rye breads, but cooked rye berries are delicious in and of themselves. Much like you might use barley or farro, rye berries make a tasty and nutritious addition to salads, soups or even as a side dish tossed olive oil and fresh herbs.
The inspiration for this recipe came from one of my favorite cookbooks, Deborah Madison's In My Kitchen. Deborah is known as THE expert on vegetarian cooking and wrote the indispensable Vegetarian Cooking for Everyone. She was also a student (and sometimes cook) at the San Fransisco Zen Center for 18 years. You will find this book on my nightstand just as often as you will find it on my kitchen counter. There is something very peaceful and meditative about Deborah's writing and her approach to food: simple and essential with immense respect for the ingredients themselves. This is what I imagine that new Nordic home cooking should be, the kind of cooking I strive to do more of in my own kitchen.
This dish pays homage to the idea of the simple, seasonal new Nordic kitchen. Beautiful, hearty and delicious, this combination of beets, rye berries, greens and creamy skyr sauce is not to be missed. It makes an excellent lunch (see my notes below for taking it on the go), and it also makes a satisfying light dinner or first course. Whatever you do, don't skip the Herbed Skyr Sauce! It really takes this dish from good to great.
Print
Golden Beets with Arugula, Lightly Pickled Shallots, Rye Berries and Herbed Skyr Sauce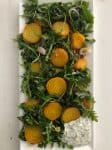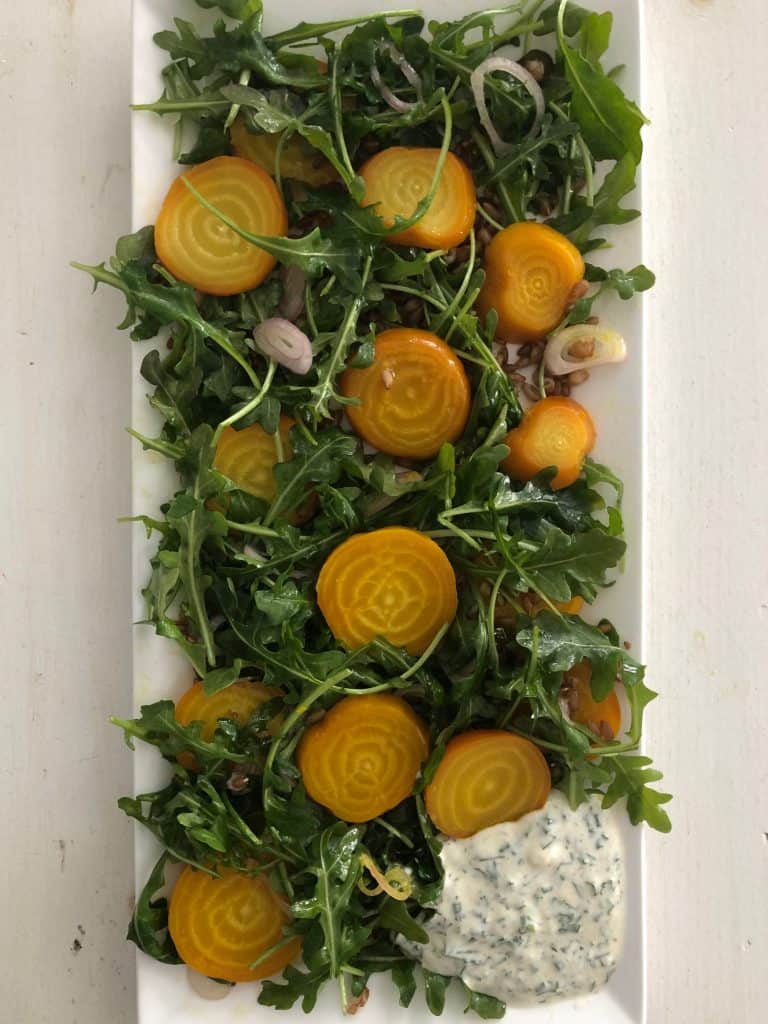 A beautiful combination of roasted beets, rye berries, dressed greens and an irresistible creamy skyr sauce.
Author:
Prep Time:

20 minutes

Cook Time:

1 hour (largely unattended)

Total Time:

1 hour, 10 minutes

Yield:

2 generous servings

Category:

salad, lunch, dinner

Cuisine:

Scandinavian, Nordic
Ingredients
½ cup rye berries
1 bunch golden beets, preferably small to medium size
2 small shallots, cut thin into rings
2 tablespoons white wine vinegar
3 tablespoons extra-virgin olive oil, plus more for drizzling on beets
1 teaspoon honey
4-6 cups baby arugula
Coarse salt and freshly ground pepper
Herbed Skyr Sauce for serving
Instructions
Place rye berries in a bowl with plenty of cold water.  Cover and soak overnight at room temperature.  Drain and rinse. Bring a medium size pot of water to a boil. Add salt.  Add rye berries. Simmer vigorously until grains are pleasantly tender but still have a little bite to them, about 50-60 minutes.  Drain and set aside to cool slightly.

Meanwhile, roast the beets:  Preheat oven to 400 degrees. Wash and trim beets.  Rub with olive oil and place inside a tightly sealed foil pouch.  Roast until the beets are tender, about 45-60 minutes. The time will depend on the size of your beets.  Open the foil pouch and set aside to cool. Once the beets are cool enough to handle, use a paper towel to help remove the skins from the beets.  They should slide off quite easily.

Cover shallots with vinegar and set aside for 10 minutes.  Whisk in honey and olive oil. Season with salt and pepper to taste.

Assemble the salad:  Slice beets into wedges or circles.  Sprinkle with a little salt and pepper.  Toss arugula and ½-¾ cup of the cooked rye berries with the dressing and the shallots (you will have leftover rye berries).  Season with more salt to taste if necessary. Artfully arrange on a platter with beet slices. Place a large dollop of Herbed Skyr Sauce on the platter.  Serve.
Notes
Feel free to substitute red beets for for the golden beets.
This would make a lovely mason jar salad to bring with you on the go!  Layer the cooked rye on the bottom, then the beets, then the arugula. Package the dressing and skyr sauce seperately.
Keywords: beets, salad, rye, Icelandic yogurt, skyr