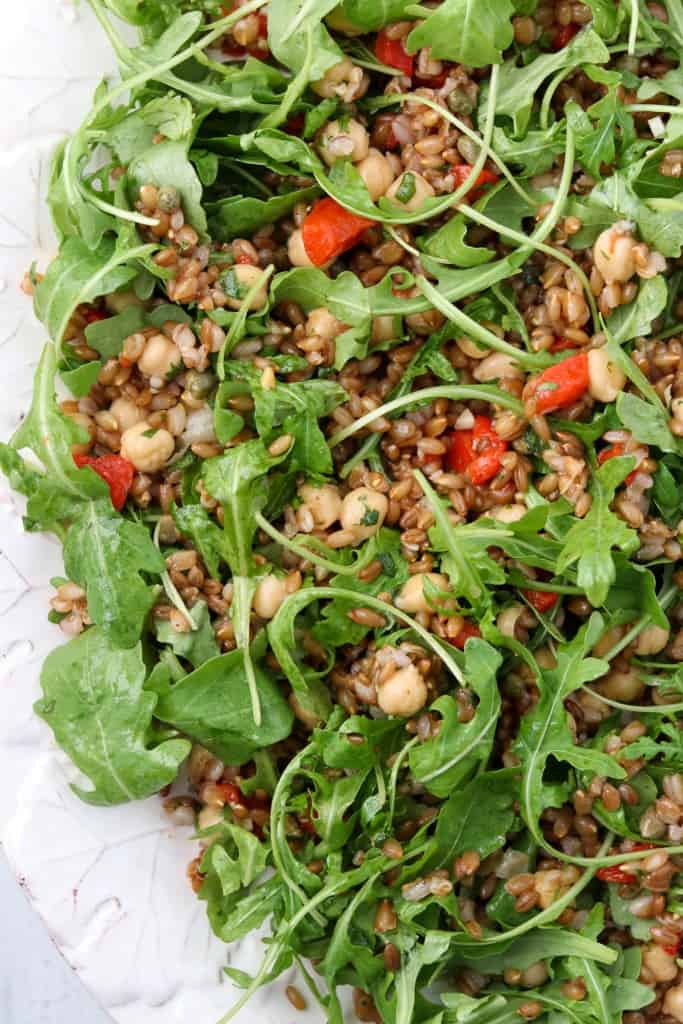 As the holidays draw near, our diets tend to shift to foods that are rich and heavy in nature. This is lovely, of course. It's part of what makes this time of year so special....my Great Grandmother's ginger snaps, Swedish meatballs, mashed potatoes, lefse with butter and sugar, Swedish pancakes.....so many delicious ways to celebrate!
The Holiday Overload
But, we cannot live on Swedish meatballs and ginger snaps alone, even in November and December. One of the reasons I started this blog was to find a way to connect with my Nordic heritage that was healthy, fresh and sustainable. That said, I have a deep appreciation for balance when it comes to food. This means that there is always room for fika treats and Scandinavian classics in my kitchen.
But this time of year, balance can be challenging when it comes to healthy and fresh, especially if you want something that is Nordic in nature. That's where this Rye Berry Salad with Chickpeas, Roasted Red Peppers and Arugula comes in. Hearty rye berries are the star of the show here, tossed with canned chickpeas, roasted red peppers, capers, baby arugula and a zippy vinaigrette to bring it all together. It's a welcome and wholesome change from the traditional holiday table!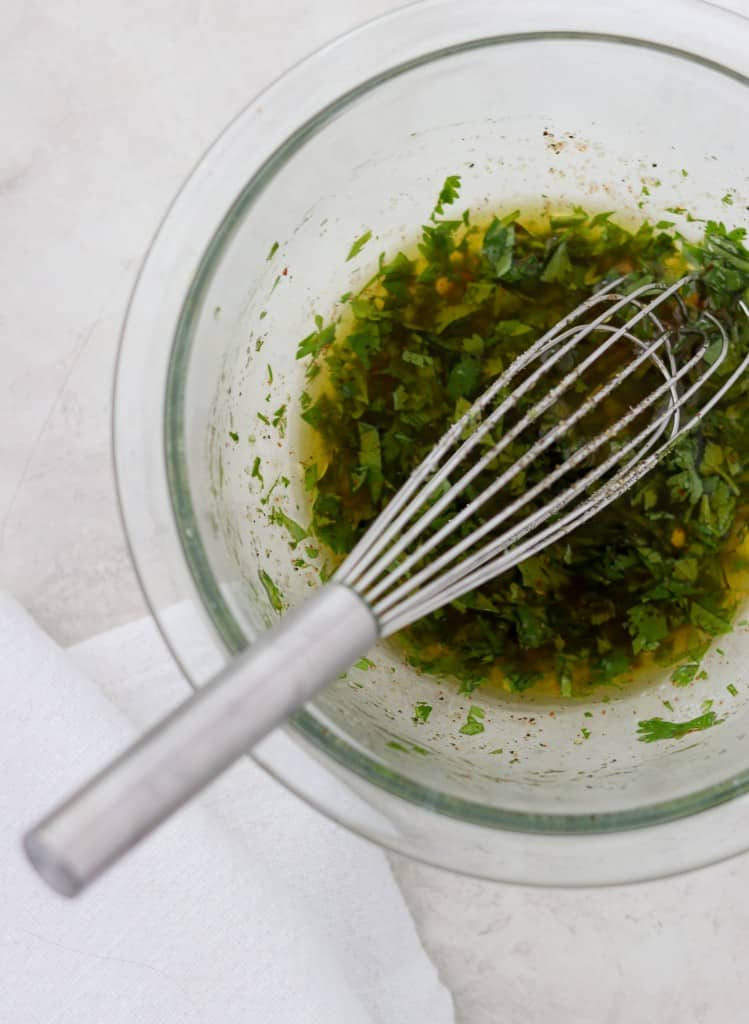 Rye Berries and Rye in the Nordic Region
What makes this salad Nordic? The rye berries of course. Rye has historically been important for the Nordic region as it is a hearty plant that can tolerate poor soil and weathers cold and wet conditions better than most grains. It was the primary grain relied upon for bread-baking in the north for centuries and is still popular today.
Scandinavia is famous for its wide array of rye breads, but cooked rye berries are delicious in and of themselves. Much like you might use barley or farro, rye berries make a tasty and nutritious addition to salads, soups or even as a side dish tossed olive oil and fresh herbs.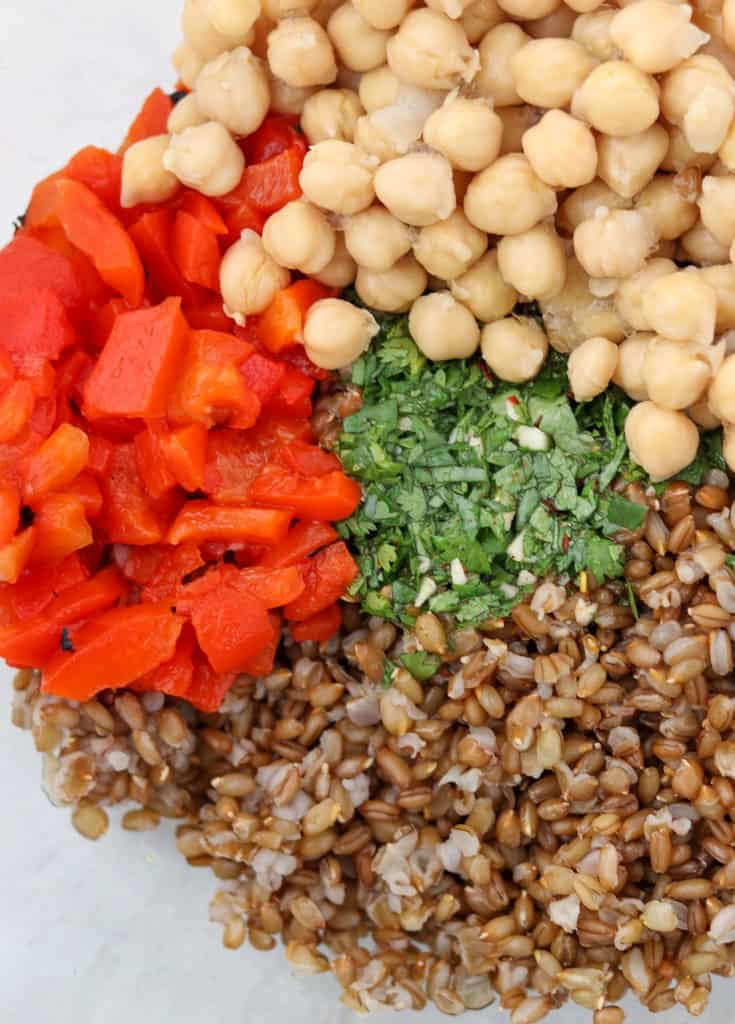 The Ingredients
This is what I would call a pantry salad. Everything with the exception of the arugula, lemon and the cilantro is something you might store in your cupboard or pantry. That makes this a great year-round dish that you can make anytime, regardless of the season.
Rye berries
Chickpeas
Jarred roasted red peppers
Capers
Garlic
Lemon juice
Cumin, paprika and red pepper flakes
Fresh cilantro
Baby arugula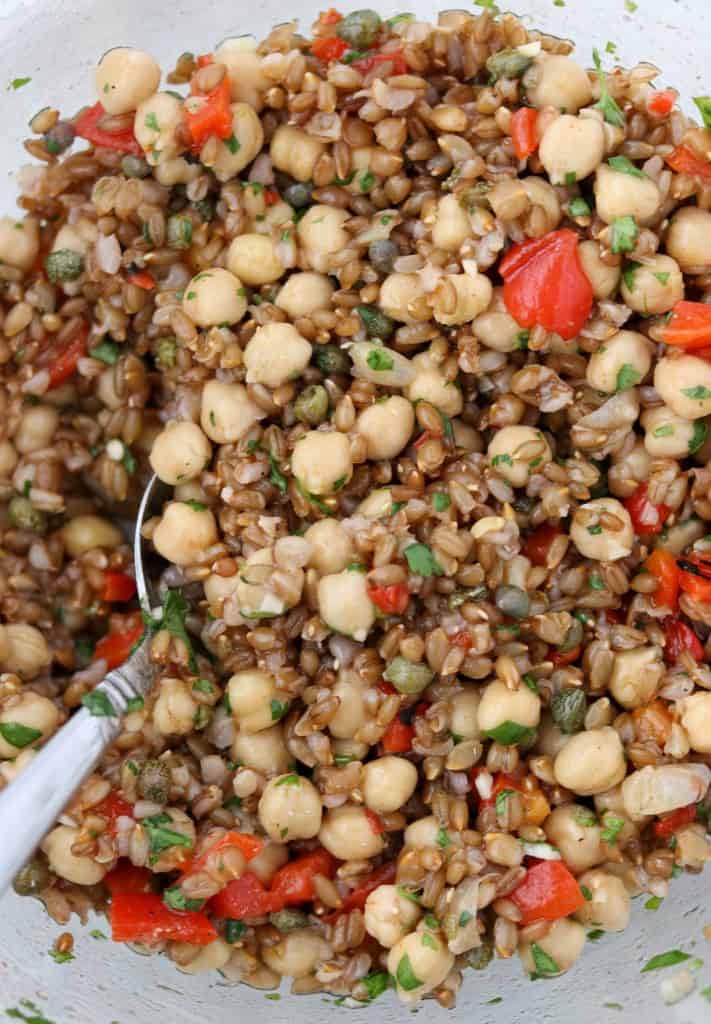 Cooking Rye Berries
Rye berries are the whole, hulled grain of rye. This makes them an extremely nutritious choice (they are high in soluble fiber, vitamin E, calcium, iron, and potassium) but it also means they take awhile to cook. Soaking the grains overnight can shave off some of the cooking time (drain and rinse them prior to cooking), but it's best to plan on a good 50-60 minutes for the grains to cook. If your grains are older, they may even take longer. Be patient and check them periodically to see if they are tender.
Substitutes for Rye Berries
No rye berries in your kitchen? No problem! Barley, farro, wheat berries or oat berries would all work really well here. Brown rice would be an ideal choice if you are looking for a gluten-free option.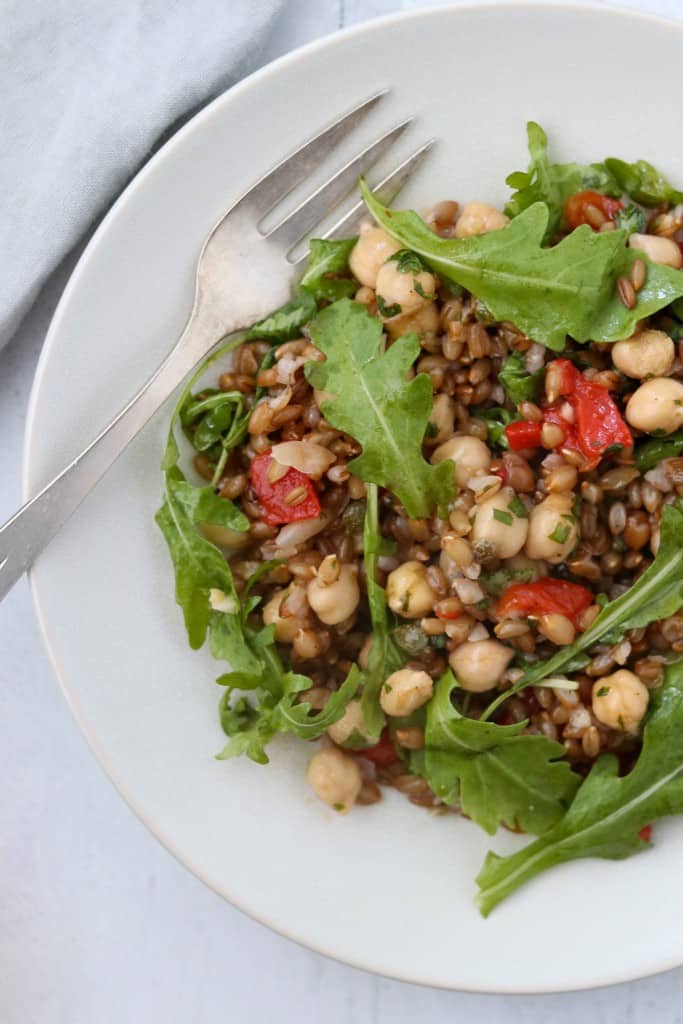 Make Ahead Options
This Rye Berry Salad with Chickpeas, Roasted Red Peppers and Arugula is wonderful made ahead of time. The flavors have a chance to meld, and the grains soak up all of the flavor of zesty vinaigrette. Simply toss everything together with the exception of the arugula and store it tightly covered in the fridge for up to three days. When you are ready to serve, simply toss in the arugula. Done!
Want to serve it for an on-the-go lunch? Make the salad (again, without the arugula for now) and package individual portions in a quart-size Mason jar. Top with a handful or two of arugula. Your delicious and nutritious lunch is ready to go when you are!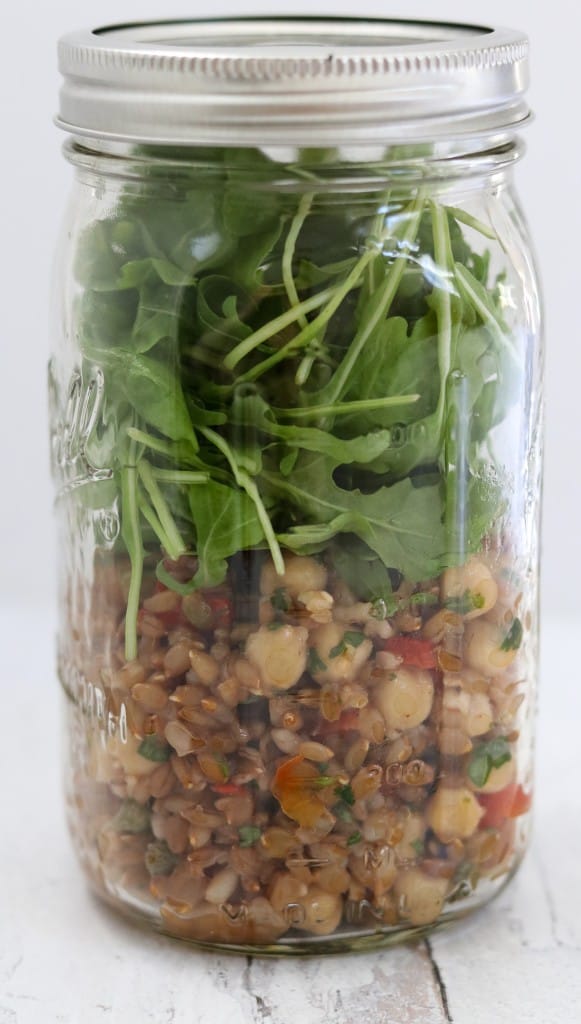 I hope you add this Rye Berry Salad with Chickpeas, Roasted Red Pepper and Arugula to your repertoire for the coming weeks. It's the perfect zesty antidote when you're craving a break from holiday foods! Looking for more ideas for rye berries? I've got a couple more here on the blog: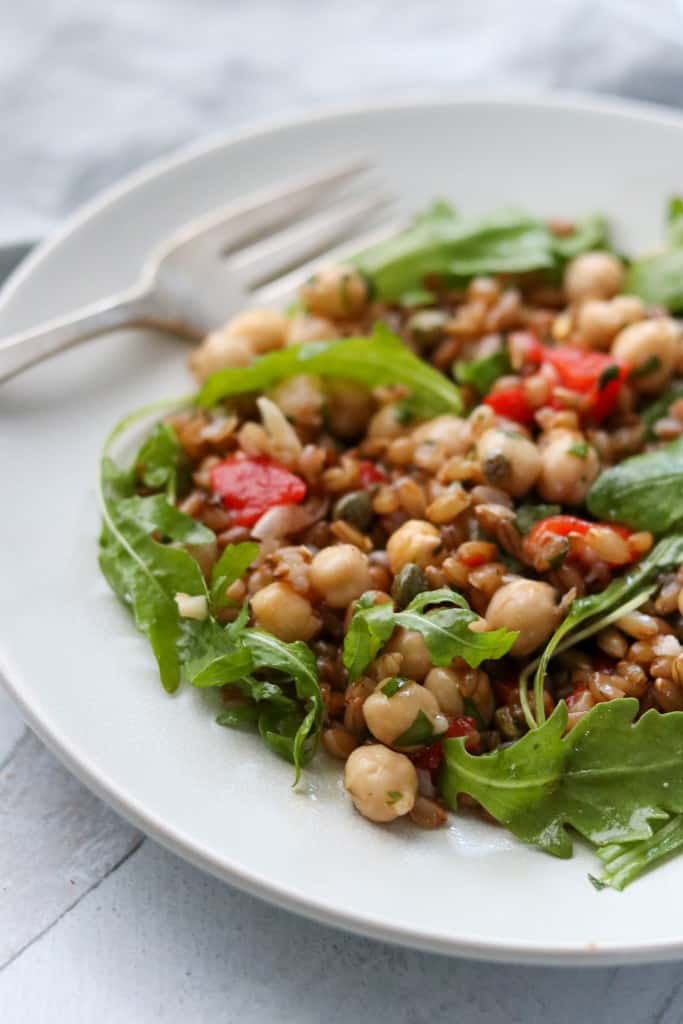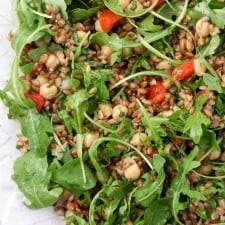 Rye Berry Salad with Chickpeas, Roasted Red Peppers and Arugula
A bright and zesty salad featuring rye berries, chickpeas, roasted red peppers, capers and arugula tossed in a zippy vinaigrette. A delicious and nutritious make ahead dish!
Print
Pin
Rate
Ingredients
1

cup

rye berries

rinsed (see note below)

Coarse salt and freshly ground pepper

1

garlic clove

minced

2

tablespoons

lemon juice

3

tablespoons

extra-virgin olive oil

2

tablespoons

minced cilantro

1

teaspoon

honey

¼

teaspoon

ground cumin

⅛

teaspoon

paprika

Pinch

of red pepper flakes

1 15-

ounce

can chickpeas

rinsed

½

cup

jarred roasted red peppers

rinsed, drained and diced

2

tablespoons

capers

drained and chopped coarse

4

cups

baby arugula
Instructions
Heat 8 cups of water in a large saucepan over high heat until boiling.  Add rye berries and a pinch of salt.  Cook until rye berries are tender, about 50-60 minutes.  Drain and set aside to cool slightly.

Meanwhile, combine garlic and lemon juice in a small bowl.  Let sit for 10 minutes.  Add cilantro, honey, cumin, paprika and whisk until fully combined.  Season to taste with salt and pepper.

Transfer rye berries to a bowl and drizzle with vinaigrette.  Add chickpeas, roasted peppers and capers and stir until combined.  Season with salt and pepper.  If time allows, let the mixture stand at room temperature for 20 or 30 minutes, stirring occasionally, to let the flavors meld.  Add arugula and toss gently.  Serve.
Notes
Adapted from
The Complete Vegetarian Cookbook
by America's Test Kitchen
To Make Ahead:
  Prepare the recipe without adding the arugula.  When ready to serve, gently toss in the arugula.  Rye berry mixture will keep for 3 days tightly covered in the fridge.
No rye berries?  No problem!
 Feel free to substitute barley, farro or even brown rice for the rye berries.
Nutrition
Calories:
272
kcal
|
Carbohydrates:
42
g
|
Protein:
10
g
|
Fat:
10
g
|
Saturated Fat:
1
g
|
Sodium:
448
mg
|
Potassium:
175
mg
|
Fiber:
9
g
|
Sugar:
1
g
|
Vitamin A:
397
IU
|
Vitamin C:
10
mg
|
Calcium:
72
mg
|
Iron:
3
mg