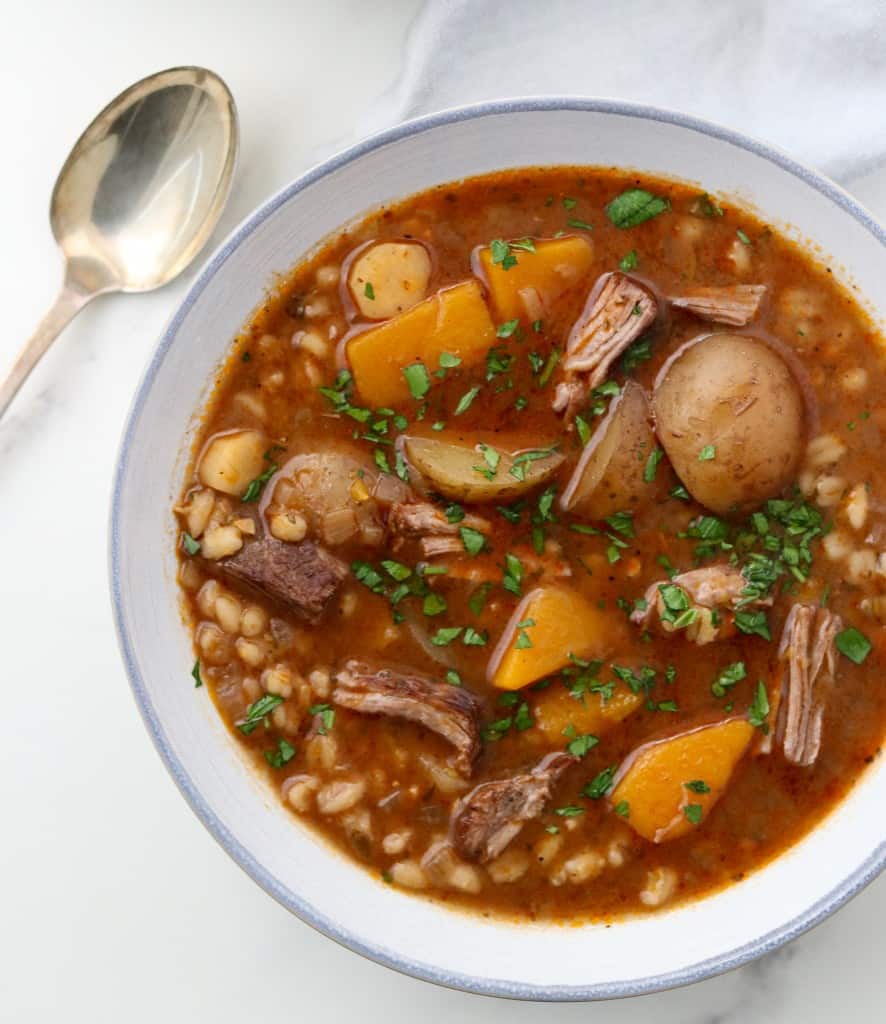 A good, cozy beef stew recipe is a cold weather essential. And if I can make it early in the afternoon and have it ready and waiting for me at dinnertime, all the better. I've been making this particular Slow Cooker Beef Stew with Barley and Fall Vegetables for several years now. Over time I've tweaked the recipe here and there trying to create the absolute best slow cooker beef stew possible. This is where the recipe stands now, and I can honestly say it has evolved to a point of perfection: tender chuck roast, hearty barley, plenty of wholesome, fall vegetables and a rich, savory broth. THIS is the beef stew of my dreams.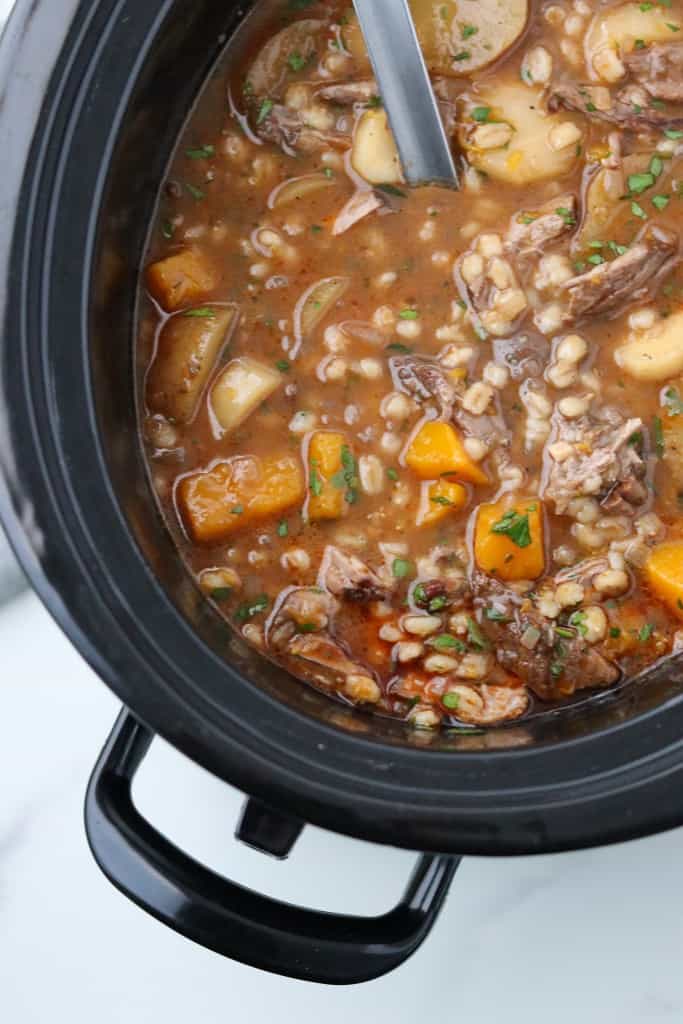 Creating Umami
There is a term in the cooking world known as "umami". It's a Japanese word that means something close to savory, meaty depth of flavor. But not all umami ingredients are meat. Mushrooms, wine, soy sauce, tomatoes, and even some cheeses are considered high on the umami meter. Adding these foods to a soup or stew really amps up the savory flavor, something that is particularly desirable in beef soup or stew.
It can be difficult to create that rich umami flavor in a beef stew when you're not starting with a homemade beef stock. Making beef stock at home is entirely possible but requires beef bones and quite a bit of simmering time....it's not something most people have the time to make from scratch anymore. Of course if you should happen to have some homemade beef stock around, please feel free use it here! You have hit the culinary jackpot. But if you don't and are just starting with canned or boxed broth, adding a few little extra umami ingredients goes a long way in boosting the overall flavor and richness of the stew. In this recipe, we are using tomato paste, soy sauce and red wine to help create the umami effect.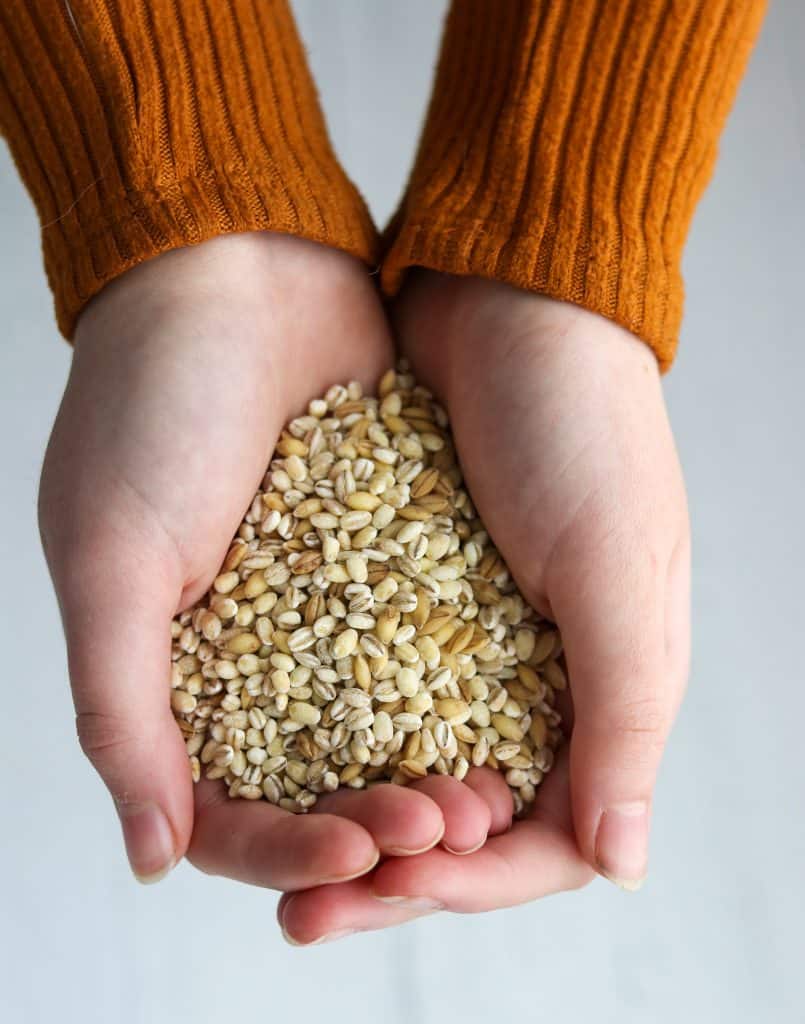 The Ingredients
This beef stew contains the the basics (beef, broth, aromatics) but also a few surprises:
Beef chuck roast. I always start with this particular cut of beef because it can withstand 4 hours of slow cooker time without drying out. In fact, the extra time just makes it that much more tender and delicious.
Onions and garlic. Classic aromatics form the base of any good soup or stew.
Fresh thyme and a bay leaf. For fresh, herby flavor.
A combination of beef and chicken broth. The flavor of commercial beef broth is, quite honestly, not that great and has a tendency to be salty. But a combination of beef and chicken broth provides a nice balance and and produces a delicious broth in the final stew.
Pearl barley. I love the hearty flavor and texture of barley in this soup. Remember that it is important to use pearl barley (also sometimes labeled medium barley). Hulled barley will not soften in time, and a quick, par-cooked barley will turn to mush.
Butternut squash, red potatoes and parsnips. A wonderful assortment of fall vegetables that pair very nicely with the beef and barley. Carrots can always stand in for the parsnips if you can't find them.
Red wine, tomato paste and soy sauce. Our umami ingredients discussed above bringing deep, rich savory flavor to our stew.
White balsamic or red wine vinegar. Just a teaspoon or two at the end of cooking will really heighten the flavors and bring everything together.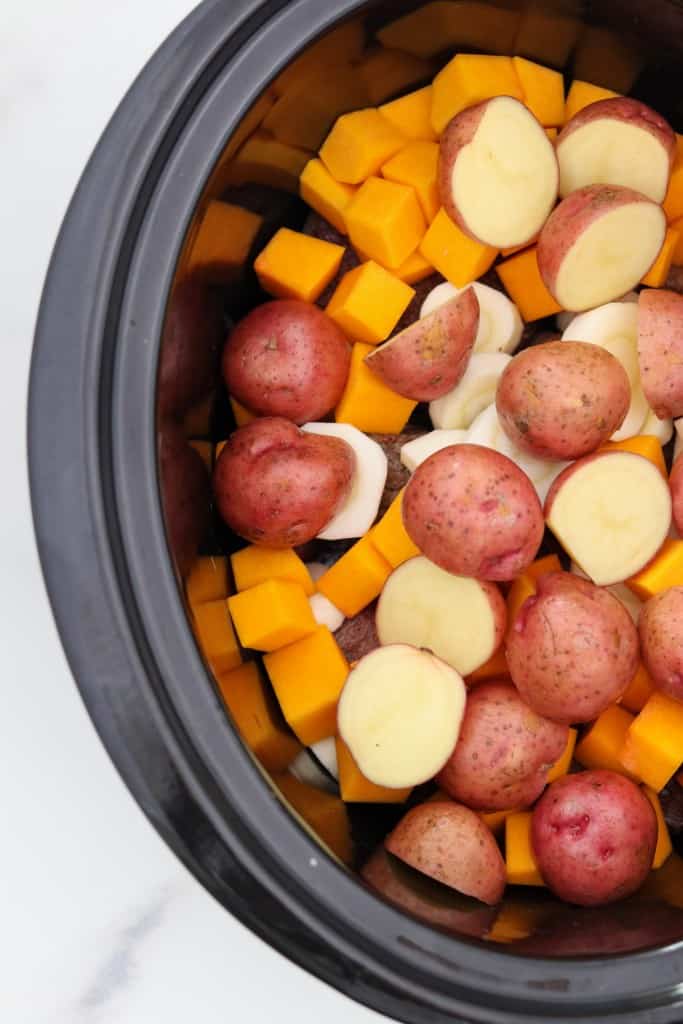 The Method
I know there are slow cooker recipes out there that are basically a "dump it all in and forget it" kind of thing. I've tried a few of those and am convinced that there are a few extra steps prior to slow cooking that are well worth your time and effort: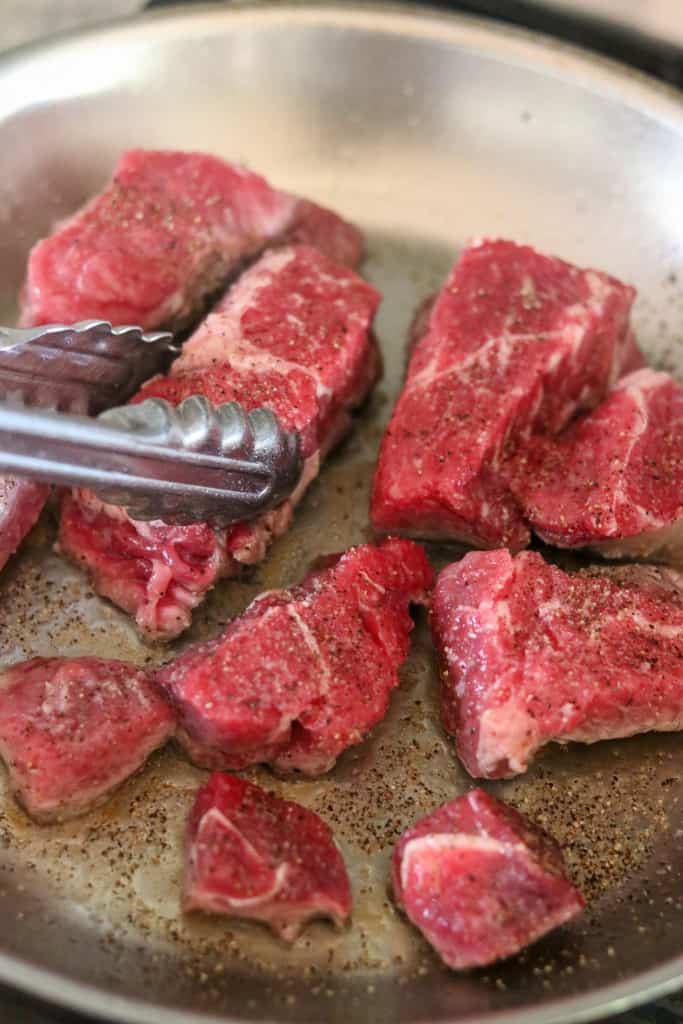 Brown the beef before putting it in the slow cooker. There is so much flavor in the brown bits that collect on the bottom of the skillet when we sear meat, not to mention the flavor of the seared meat itself. This is a step well worth taking.
Cook the aromatics and tomato paste. In that same skillet in which we browned the meat, we will cook our onions and garlic for a few minutes to let them soften and deepen in flavor, not to mention to help release those delicious brown bits left over from cooking the chuck roast. Just before adding the wine and soy sauce, we add the tomato paste to let it cook and deepen in flavor.
Deglaze the skillet with red wine and soy sauce, scraping up any brown bits that remain on the bottom of the pan.
Once the stew if done cooking, remove the beef and shred it before returning it the pot. This produces the perfect bite-sized pieces so that you get a little beef in each bite of stew.
Salt and pepper to taste. This is always so important! It's quite likely your stew will need a little bit more of both. As the cook, it's your job to taste and adjust the seasoning prior to serving.
Don't forget that teaspoon or two of vinegar! It might not seem like much but it really heightens all of the flavors in this stew and brings everything into balance.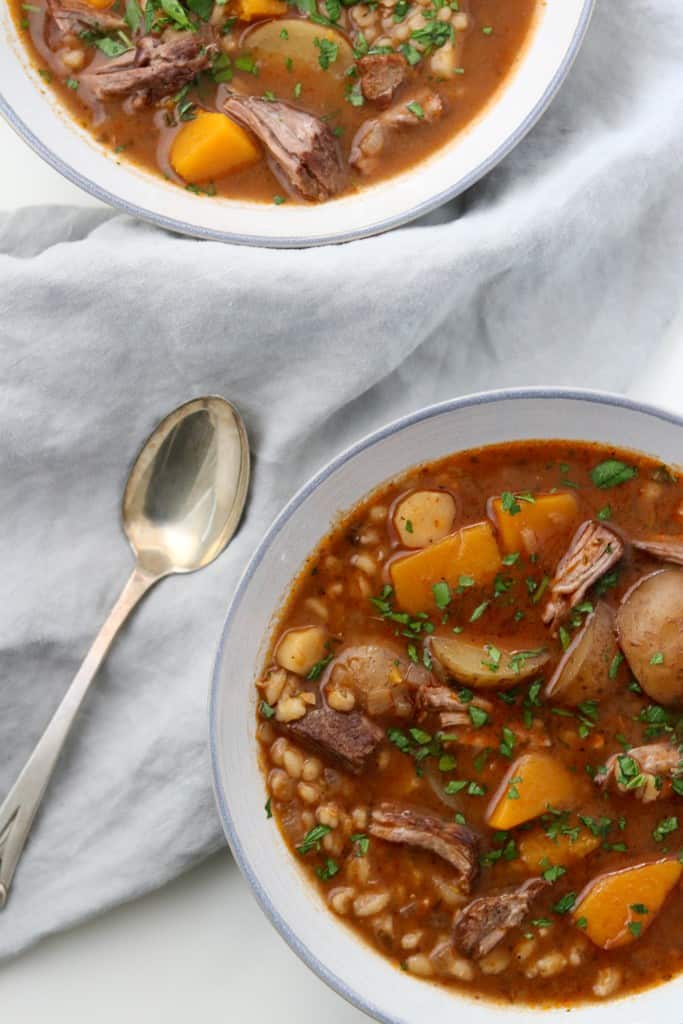 Can I Make it Ahead of Time?
The fact that this is a slow cooker stew means that at the very least, you can make it 4 hours (or so) ahead of time. The leftovers are really delicious, and I always take the time to freeze whatever we didn't eat for dinner the first time around. HOWEVER, the vegetables, particularly the squash, will start to fall apart after you freeze and rewarm the stew. This in no way impacts the flavor, but it's not nearly as eye-catching as the vegetables aren't as distinct in shape.
Somehow it's the middle of October already. Stew season is most definitely upon us. These chilly, gray days of fall and winter are greatly improved by warm, cozy dishes like this Slow Cooker Beef and Barley Stew with Fall Vegetables. I hope you give it a try! It is one that I look forward to year after year. I also have lots more soul-warming soups and stews for you here on the blog that you should definitely check out: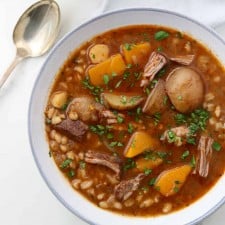 Slow Cooker Beef Stew with Barley and Fall Vegetables
A hearty and delicious beef stew with barley, potatoes, butternut squash and parsnips.  Perfect for a cozy night in!
Print
Pin
Rate
Ingredients
2

tablespoons

vegetable oil

divided

2 ½ - 3

pounds

beef chuck roast

trimmed and cut into 4-5 large pieces

1

onion

diced medium

3

garlic cloves

minced

2

teaspoons

chopped fresh thyme

2

tablespoons

tomato paste

1

tablespoon

soy sauce

¼

cup

dry red wine

2

cups

low-sodium chicken broth

4

cups

beef broth

1

bay leaf

¾

pound

small red or yellow potatoes

halved or quartered if large

2

cups

cubed butternut squash

1 inch cubes

2

parsnips or carrots

peeled and cut into rounds (rounds halved if large)

½

cup

pearl barley

1-2

teaspoons

white balsamic or red wine vinegar

Coarse salt and freshly ground pepper
Special Equipment Needed:
Instructions
Add one tablespoon oil to a 12 inch skillet and heat over medium-high.  Season beef with salt and pepper.  Add beef to the pan and saute until browned, about 5-7 minutes.  Transfer to the slow cooker.

Add remaining tablespoon of oil to the skillet and reduce heat to medium low.  Add onion, garlic and thyme.  Cook, stirring frequently, until onion is soft and translucent, about 3 minutes.  Add tomato paste and cook for 1 minute, stirring constantly.  Add wine and soy sauce and continue cooking until wine is almost completely evaporated, scraping the bottom of the pan to remove any brown bits that remain.  Add chicken broth and bring to a simmer. Transfer mixture to the slow-cooker.

Add beef broth, bay leaf, potatoes, squash, parsnips or carrots and pearl barley to the slow-cooker.  Cover and cook on high for 4 hours.

Remove beef from the slow cooker using a slotted spoon or tongs.  Set aside to cool slightly.  Shred into bite size pieces and return to the pot.

Add vinegar one teaspoon at a time, adding more if necessary.  Season to taste with salt and pepper.  Serve garnished with chopped fresh parsley.
Nutrition
Calories:
970
kcal
|
Carbohydrates:
35
g
|
Protein:
88
g
|
Fat:
54
g
|
Saturated Fat:
25
g
|
Cholesterol:
287
mg
|
Sodium:
1187
mg
|
Potassium:
2152
mg
|
Fiber:
6
g
|
Sugar:
4
g
|
Vitamin A:
8571
IU
|
Vitamin C:
28
mg
|
Calcium:
140
mg
|
Iron:
11
mg