Hotdogs are the street food of choice in Copenhagen. They are served with a variety of condiments, but this particular combination is a true classic…a creamy curried remoulade sauce, fresh pickled cucumbers and crispy fried onions. It might sound a bit odd, but all of these condiments are quite common in Danish cuisine and are absolutely delicious together. The curry remoulade in particular is absolutely life-changing (dip your fries into it and tell me I'm wrong). This creamy, crispy, cucumber-y trio of toppings breathes new Nordic life into the humdrum hotdog with its standard ketchup and mustard toppings that we are all so very familiar with.
I'm guessing that most of us don't even eat hotdogs that often anymore. They were a cornerstone of my diet growing up in the 1980s, but have become something of an indulgence as I've gotten older. I might enjoy one at a baseball game or the state fair, but that's about it. While I am all for making nutritious choices when it comes to food, I am also a big believer in balance. And I'm quite sure there is room in a healthy diet for indulgences now and then. So the next time you are hankering for a hotdog, DO IT RIGHT. Mix up this tasty trio of condiments, fire up the grill and do things the Danish way. Your tastebuds will thank you.
Print
Danish Hotdogs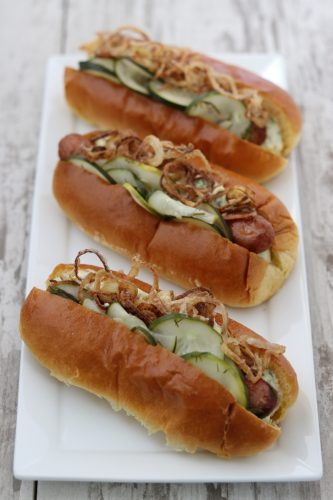 Grilled hotdogs topped with creamy, curried remoulade sauce, fresh pickled cucumbers and crispy fried shallots.  A Danish street food classic!
Author:
Prep Time:

50 minutes

Cook Time:

10 minutes

Total Time:

1 hour

Yield:

4

–

6

hotdogs

1

x
Method:

Grilling

Cuisine:

Danish, Scandinavian, Nordic
Scale
Ingredients
4-6 best quality hot dogs
Crispy Fried Shallots, recipe follows
Pickled Fresh Cucumbers, recipe follows
Remoulade Sauce, recipe follows
4-6 hot dog buns for serving
For the Crispy Fried Shallots:
3 medium shallots, sliced into thin rings, rings separated from one another
¼ cup all purpose flour
¼ teaspoon fine salt
Freshly ground pepper
1 cup canola, vegetable or peanut oil for frying
Coarse sea salt for sprinkling
For the Pickled Fresh Cucumbers:
2 cucumbers, sliced thin
1 cup distilled white vinegar
1 cup water
¼ cup granulated sugar
1 teaspoon black peppercorns
1 teaspoon coarse salt
2 tablespoons chopped fresh dill
For the Danish Remoulade:
½ cup prepared mayonnaise
2 tablespoons skyr or greek yogurt
1 heaping teaspoon dijon mustard
1 tablespoon capers, coarsely chopped
2 tablespoons Pickled Fresh Cucumbers (recipe above), finely chopped
1 tablespoon finely chopped shallot
2 tablespoons chopped fresh parsley
½ teaspoon curry powder
Instructions
Make the Pickled Fresh Cucumbers:

 Place sliced cucumbers and dill in a quart-size mason jar (cucumbers should come about three quarters of the way up the jar). 

Heat remaining ingredients in a saucepan over medium heat until simmering.

Pour vinegar mixture into the jar with the cucumbers and dill.  Let sit at room temperature for at least 30 minutes before using.  If you are not eating them immediately, cover and refrigerate the cucumbers once the mixture has cooled to room temperature.  The cucumbers are best fresh but will keep in the fridge for a couple of days.

Make the Crispy Fried Shallots:  Combine flour, salt and a few grinds of pepper in a large ziploc bag.  Add shallots, seal and toss around until shallots are coated with flour mixture.

Meanwhile, heat oil in a large saucepan until it reaches 280 degrees.  It's worth using a thermometer here if you have one. If the oil is too hot, the shallots will burn and if it is too cool they will be soggy.

Remove half of the shallots from the bag, shaking off any excess flour.  Place in pan and fry until golden brown and crispy. This may take as little as two minutes or as long as five.  Keep your eye on them, stir them frequently and look for the visual cues. Remove from oil using a slotted spoon.  Place on paper towels and allow to drain. Sprinkle with sea salt and allow them to cool slightly and crisp up. Repeat with the other half of the shallots.  Shallots can be used immediately or stored in the refrigerator for 5-7 days. Mine usually stay pretty crisp, but you could warm them in a 200 degree oven to crisp them up again if necessary.

Make the Danish Remoulade:  Combine all ingredients in a small bowl and stir until fully combined.

Heat grill.  Grill hotdogs over medium heat until heated through and nicely browned, about 5-7 minutes.

Place one hot dog inside of each bun.  Spoon remoulade over the length of the hot dog, followed by pickled cucumbers and a sprinkle of crispy shallots.  Serve immediately.
Keywords: hotdogs, Danish