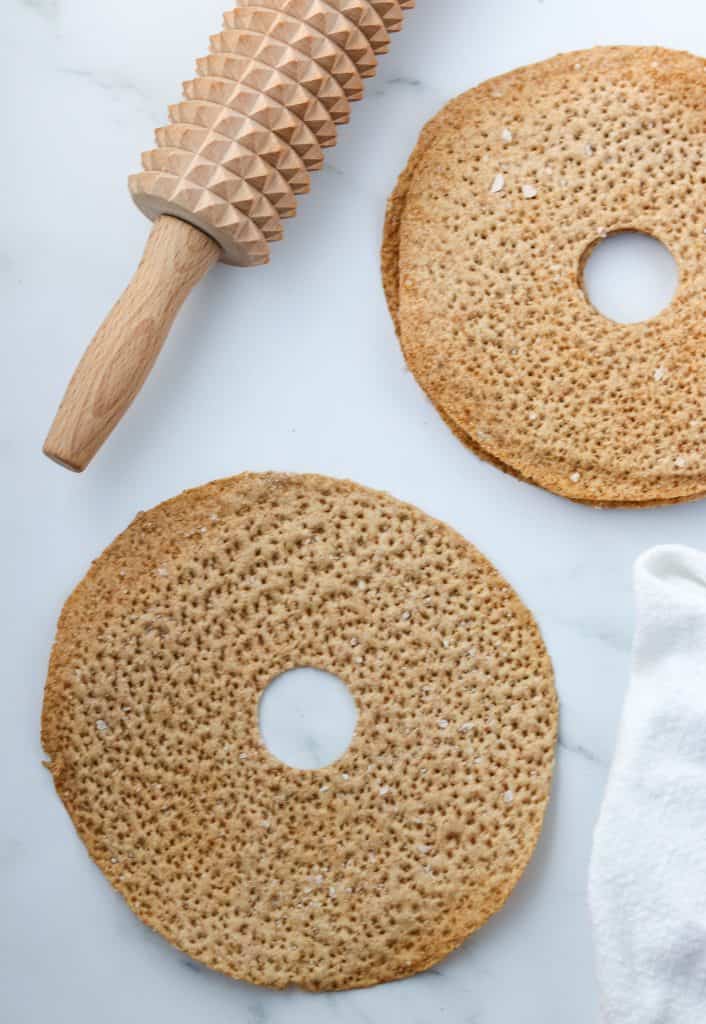 If you are a sourdough bread baker, you know that feeling of tossing out a portion of your starter ever time you feed it and thinking, "I wish there was some easy way I could put this to good use!" This Sourdough Rye Crispbread (or Knäckebröd in Swedish) is a simple, resourceful and very Scandinavian solution to that dilemma. With only 4 ingredients, including that leftover starter, you have everything you need to create homemade rye crispbread that is sure to become a household staple. You may may never buy crackers or pita chips again!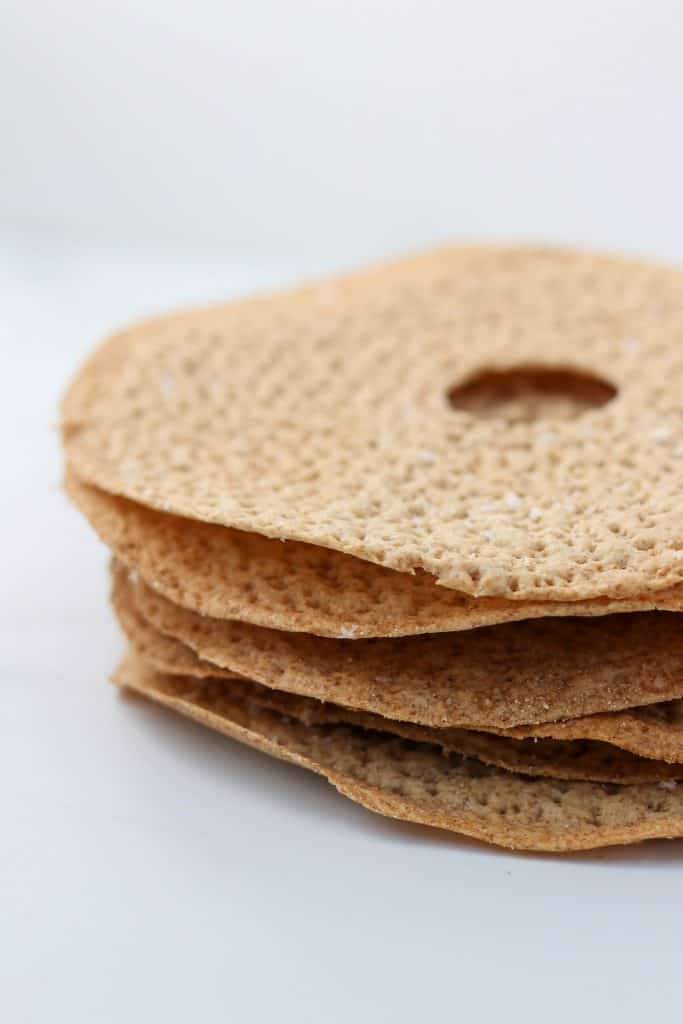 What Is Crispbread?
While crispbread might seem like just a large round cracker with a hole in the center, Scandinavians see it as another form of bread and serve it for breakfast, lunch, dinner and as a snack in between meals. It is often made with rye flour but can also include wheat, oats or barley and/or a variety of seeds such as flax or sunflower.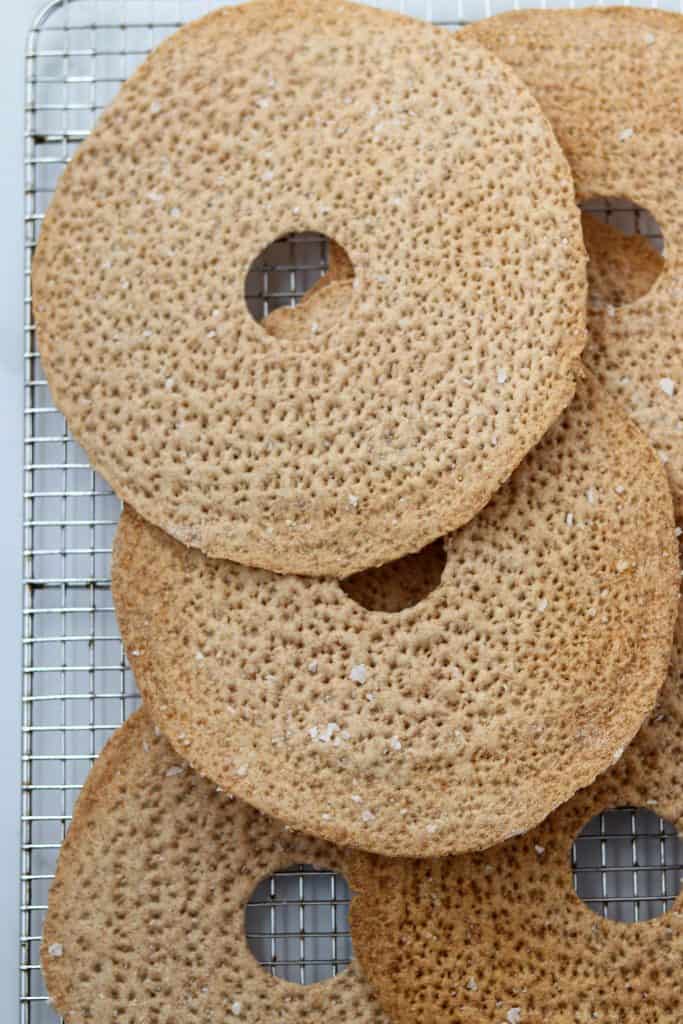 Crispbread in Scandinavia
Crispbread was traditionally made only twice a year and stored on a long pole hanging near the ceiling, hence the hole in the center of each piece. When you were ready for another crispbread, you could simply climb up, slide one off the pole and give it a little dust off. While this storage method is very charming, modern day Scandinavians are more likely to opt for an airtight container to keep their crispbread fresh AND dust-free.
Scandinavians eat a lot of crispbread, Swedes boasting the highest consumption, closely followed by Norway. Crispbread is Sweden's second largest export (just behind vodka), and on average, Swedes consume over 450 slices of crispbread per year!
What Should I Eat with Crispbread?
Crispbread makes an excellent base for just about anything and everything. For breakfast, think butter and and jam or a sliced hard-boiled egg, or maybe cream cheese and homemade pear compote. For lunch, how about a piece of crispbread piled high with creamy chickpea salad or dipped into Roasted Beet Hummus? And as an easy and delicious accompaniment to your Nordic supper, serve it buttered along side a cozy soup or stew. It's perfect for dipping.
Tips and Tricks for Perfect Crispbread
Making your own crispbread is incredibly easy and enjoyable once you get the hang of it. I've got a few tips and tricks to help ensure crispbread success everytime: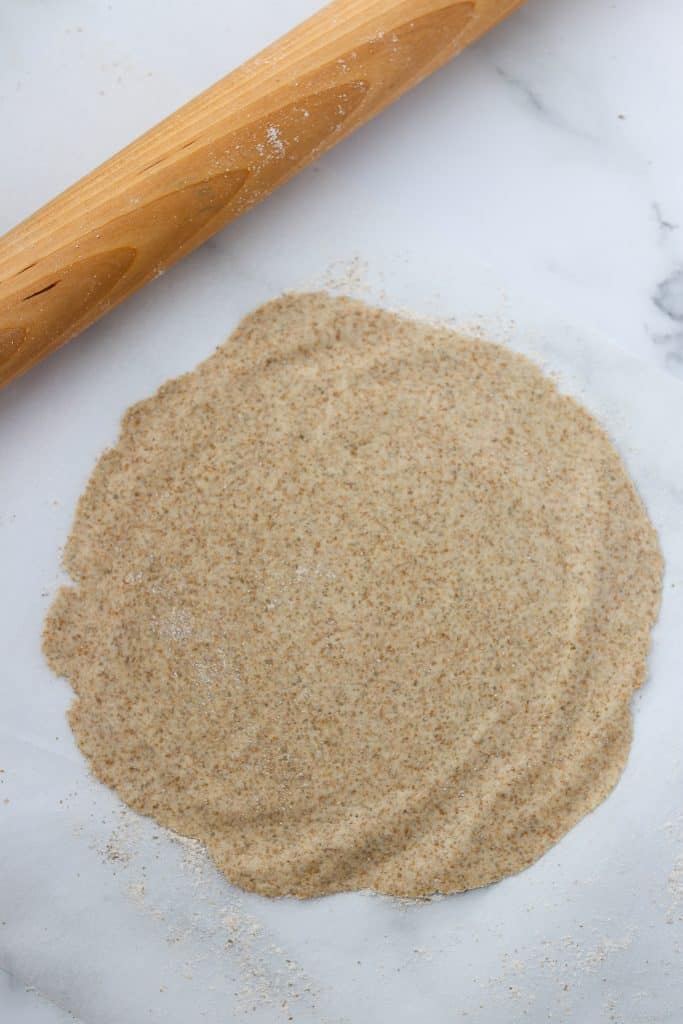 Roll your crispbread thin. PAPER thin. When you think it's thin enough, keep rolling. You will get a much more crisp final product when you take the time to roll it out as thin as you possibly can. You can also expect your crispbread to expand slightly when baked so it will not be quite as thin as when it went into the oven.
Use a pizza cutter to even out the edges if necessary. Don't worry if your crispbread is more amoeba-shaped than round. Simply use a pizza cutter to even out the edges. Or leave your crispbread amoeba-shaped! That's rustic and charming, too. The more you make your own crispbread at home, the better you will become at rolling out the dough.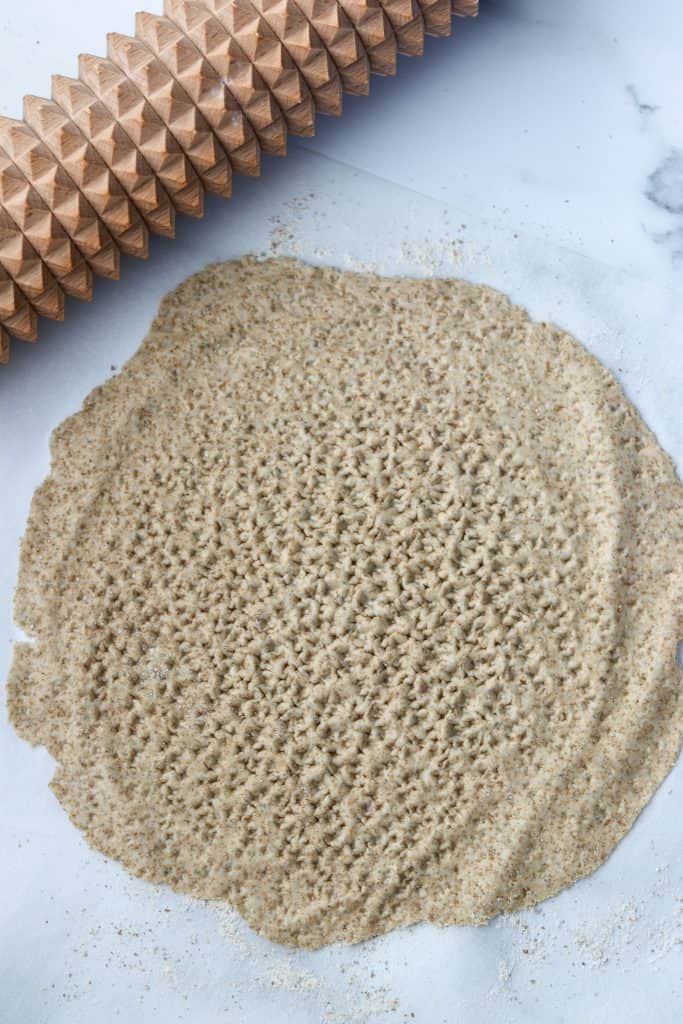 Roll a kruskavel (a notched rolling pin) over the dough round a few times or poke it all over with a fork. This helps keep it flat and ensures maximum crispiness. If you enjoy Scandinavian baking and want to start making more of your own crispbread and flatbread, I highly recommend investing in a kruskavel of your own. It's an invaluable tool for the Nordic baker.
Roll your dough directly on a piece of parchment paper. This eliminates the need to transfer the dough round from the counter to a baking pan. It also makes it easier to roll the crispbread really, really thin. If you are not already doing so, it's worth checking out your local bakery supply store for a large box of baking parchment paper. It is so much more affordable that buying a small box of it at the grocery store.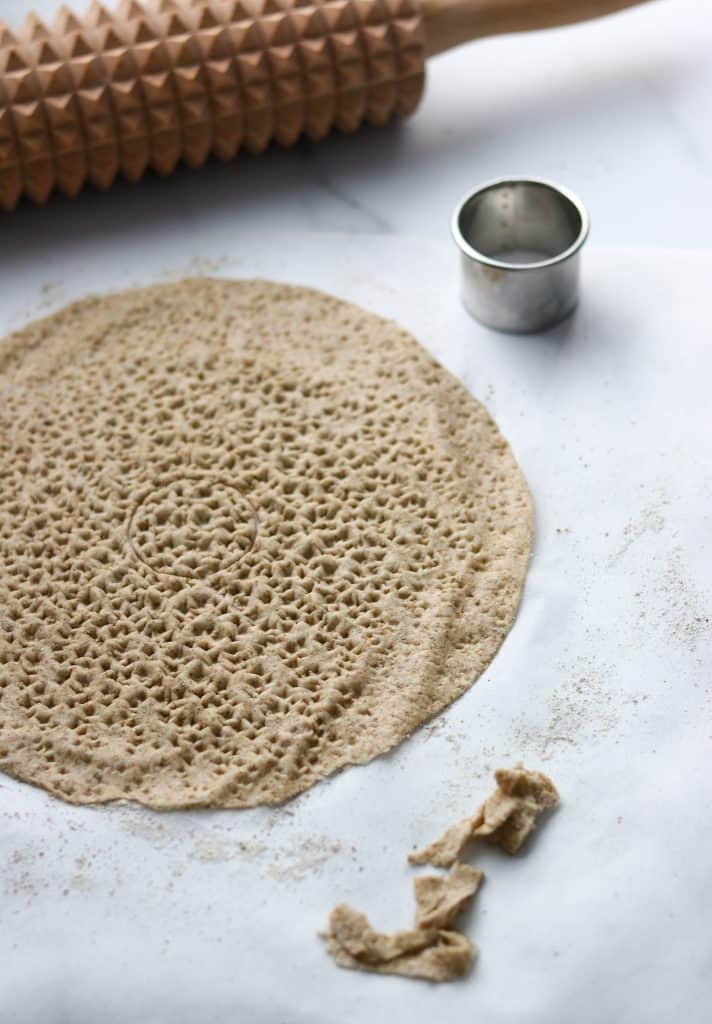 Cut a hole in the center of your crispbread using a round biscuit cutter. Not just because it's charming and traditional, but also because the center is the last part of the crispbread to crisp up. Creating that hole in the center creates extra edges and helps prevent the dreaded soggy crispbread. Go ahead and leave the little rounds in place while the crispbread bakes.
Sprinkle on some sea salt flakes before baking. This adds an irresistible salty crunch to your crispbread.
Bake until golden brown and crisp. DO NOT remove your crispbread from the oven too soon. This leads to sogginess. You want to make sure your crispbread is crispy all the way through.
Allow the crispbread to cool completely on a wire rack prior to storing. Moisture is the enemy of good crispbread. Make sure that it is thoroughly cooled before placing in an airtight container.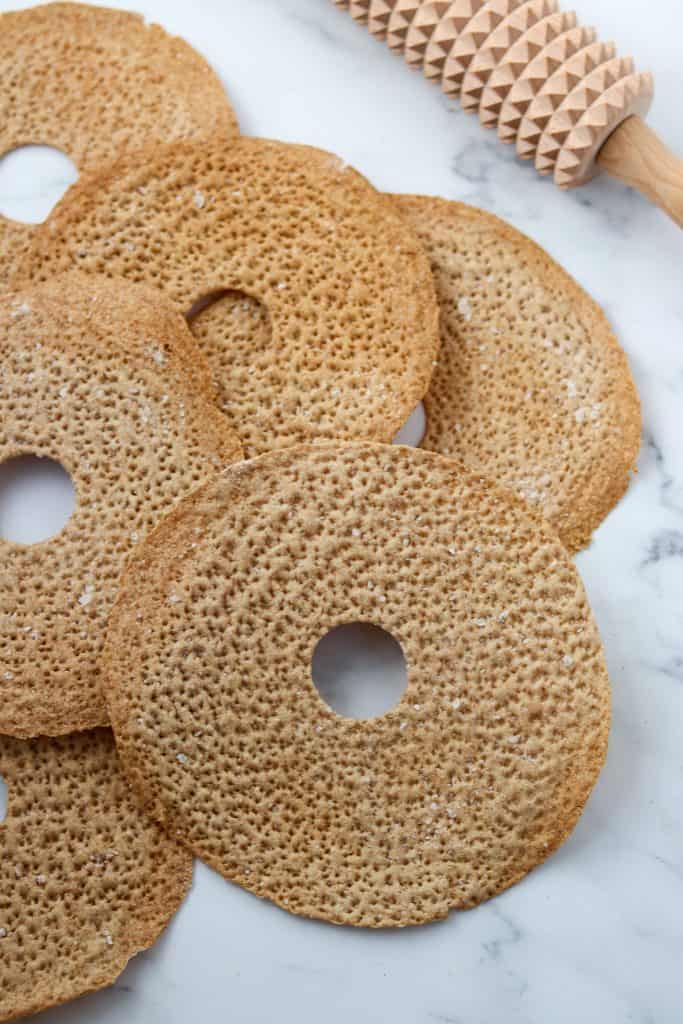 I hope you give this Easy Sourdough Rye Crispbread a try! It's sure to become a household favorite and part of your weekly baking routine. If you don't keep a sourdough starter but would like to, I've got instructions for creating your own sourdough starter right here. And if you want to make crispbread without a starter, please give this Rye and Oat Crispbread a try! And please share your experience with this recipe in the comments below! I always love hearing from you.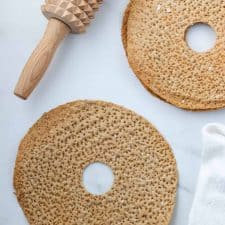 Easy Sourdough Rye Crispbread (Knäckebröd)
A thin homemade rye cripsbread (knäckebröd) made with discarded sourdough starter.
Print
Pin
Rate
Ingredients
1

cup

about 8 ounces discarded sourdough starter

¼

cup

unsalted butter

room temperature

½

teaspoon

fine sea salt

1

cup

dark rye flour

plus more for rolling

flaky sea salt

such as Maldon for sprinkling on top
Instructions
Combine sourdough starter, butter, fine sea salt and rye flour in a medium bowl.  Mix and knead together with your hands until a cohesive dough forms.  Wrap dough tightly in plastic wrap and place in the fridge until well chilled, 2 hours or up to 1 day.

Preheat the oven to 350 degrees.  Remove dough from the refrigerator and tear off a piece that is about 2 inches in diameter.  Using your hands, roll the piece of dough into a ball and place on a piece of parchment paper.  Flaten slightly into a disk shape with your palm.

Sprinkle dough round with flour and roll with a traditional rolling pin until it is VERY thin circle, about 8 inches in diameter.  Sprinkle with additional flour as necessary to prevent sticking.

Using a 1 ½ inch biscuit cutter, cut a hole in the center of the dough round, leaving the circle in place while the crispbread bakes.

Sprinkle with flaky sea salt.  Transfer parchment paper to a rimmed baking sheet and bake for 10-16 minutes or until crispbread is golden brown and crisp.  Do not remove it from the oven too early!  No one likes soggy crispbread.

Transfer to a wire rack to cool.  Repeat with remaining dough.  Store in an airtight container at room temperature for up to two weeks.
Nutrition
Calories:
141
kcal
|
Carbohydrates:
18
g
|
Protein:
3
g
|
Fat:
7
g
|
Saturated Fat:
4
g
|
Cholesterol:
17
mg
|
Sodium:
168
mg
|
Potassium:
54
mg
|
Fiber:
2
g
|
Sugar:
1
g
|
Vitamin A:
203
IU
|
Calcium:
5
mg
|
Iron:
1
mg