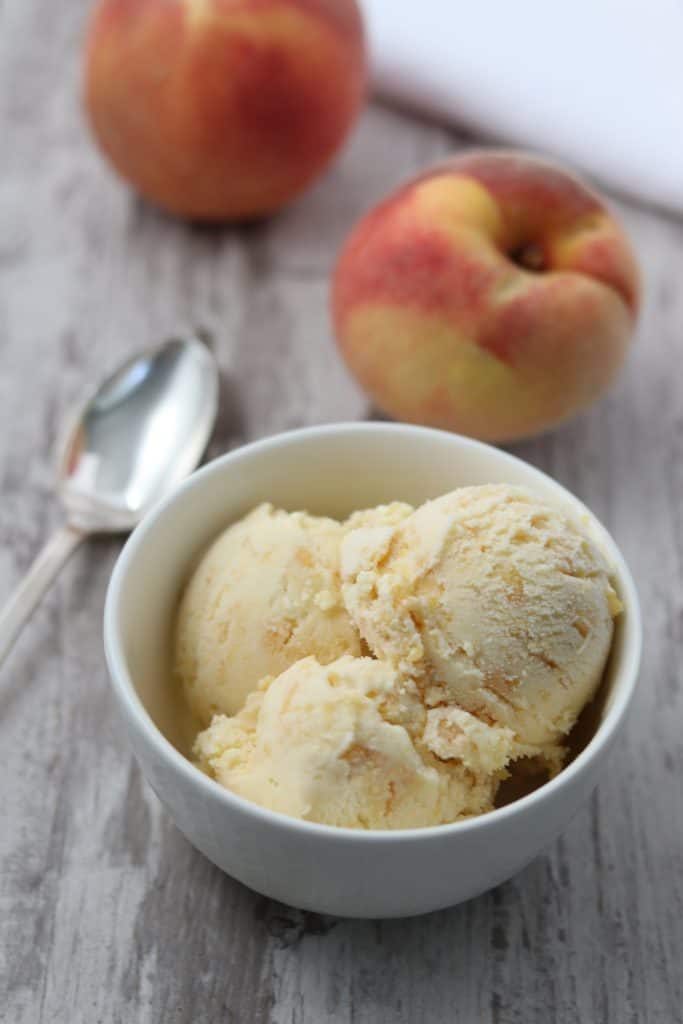 Making homemade ice cream feels nostalgic to me, like something from a bygone era. I picture kids on a front porch cranking the handle of one of those wooden ice cream makers that required large quantities of rock salt in order to make it work. And the truth is, in our modern world complete with a dizzying array of pre-packaged ice creams available in the freezer section of the grocer store, making your own ice cream at home is hardly necessary. But perhaps this is exactly why we should bother to undertake the activity. Sometimes something slow, a kitchen project that takes a little time and planning, is just what we need to help us shift gears from our faced-paced, on-the-go 24/7 lives.
You will need an ice cream maker for this project, and thankfully they've come a long way since the days of hand cranks and rock salt. Simply push a button and the machine does the work for you. Consider it a worthwhile investment, a promise of countless batches of cold creamy goodness for years to come. I've had my ice cream maker for over 20 years and it's still going strong!
On Wednesday I wrote about the joys of having a jar of fruit compote in the fridge. This Roasted Peach Ginger Ice Cream is just one more delicious idea for putting that compote to good use. The ice cream itself is simply a classic custard base made with cream, milk and egg yolks. Add your Roasted Peach Ginger Compote towards the end of churning and boom! Peach ginger ice cream. Couldn't be easier.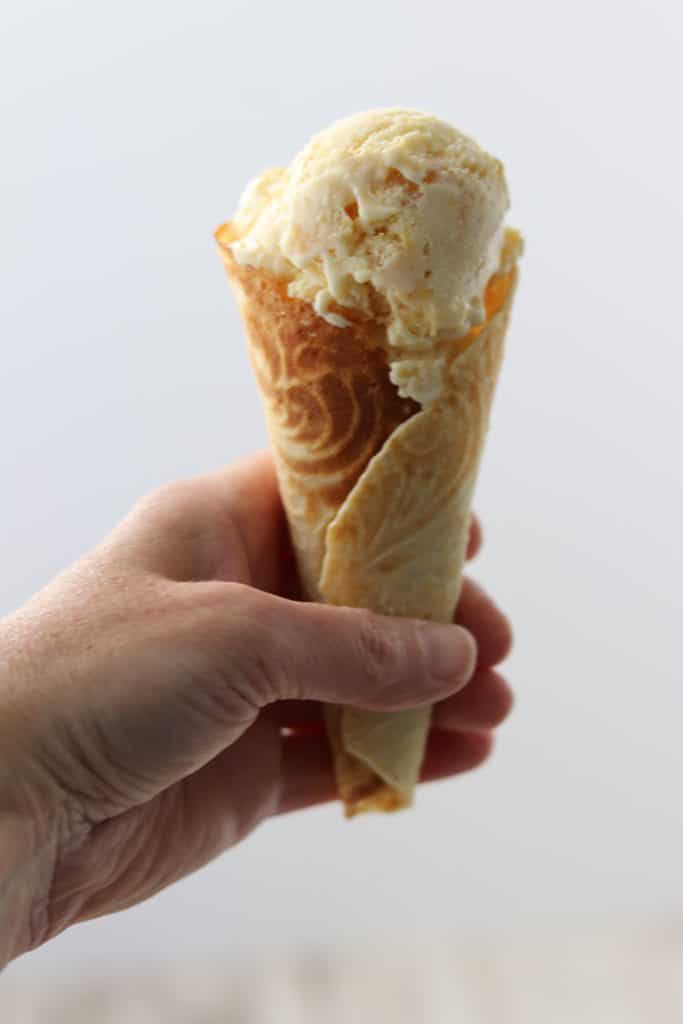 Tips and Tricks for Smooth and Creamy Ice Cream
Ice cream is incredibly straightforward and simple to make, but it is a process, and there are definitely a few tips and tricks for ensuring that it's creamy and delicious every time:
Remember to freeze the work bowl of the ice cream machine in advance. Ice cream making is not for the impulsive, the impatient or the spontaneous. It's an activity that rewards planning and preparation. The work bowl of your ice cream maker must be thoroughly chilled prior to successfully churning ice cream. See the manufacturer's instructions for specific details for your particular model, but this may take anywhere from 24-48 hours. During the summer months, I just keep the work bowl in the freezer so that when I'm ready to make a batch of ice cream it's ready to go.
Temper the egg yolks prior to adding them to the milk and cream mixture. There is a very good reason that the recipe asks you to SLOWLY mixing about a cup of the hot cream mixture into the egg yolks prior to adding them back to the pan. This process is called tempering and it helps ensure that your eggs don't solidify once they hit the shocking heat of the cream mixture. We want creamy custard here, not scrambled eggs.
Strain the custard base once it has finished cooking. Some recipes will skip this step, but if you don't strain the mixture, you run the risk of having little bits of cooked egg in your finished project. Not good. Better to be on the safe side and strain.
Cool the mixture COMPLETELY before putting it into the fridge. Ice crystals are the enemy of smooth and creamy ice cream. One of the reasons we use an ice bath to cool the custard base down quickly and completely is so that condensation doesn't form after you cover the mixture and cause additional water to find it's way back into the custard (water that will eventually freeze and become icy). I will let my custard sit in the ice bath until it is cool to the touch and then cover and transfer it to the refrigerator.
Don't skimp on the cooling time prior to churning. To prevent ice crystal formation, it's important to make sure that the mixture is good and cold before it goes into the ice cream maker. I almost always make my custard base one day and churn it the next.
Add a little vodka to the fruit compote. This is a little trick I picked up from the good people at America's Test Kitchen. The freezing point of vodka is lower than that of water, so adding a little to your fruit helps keep it from freezing to the point that it becomes hard and icy.
Maybe ice cream making is just the thing to put on your to-do list this weekend to help you slow down and squeeze every ounce of goodness from these waning days of summer. If you are a krumkake baker, whip up a batch of those as well to use as ice cream cones....they are darling and the perfect light and crispy compliment to the peach ice cream. By Sunday night you'll be sitting on the porch basking in the warm glow of an August evening, ice cream cone in hand, fully appreciating the slow rhythm of the season.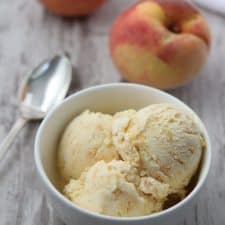 Roasted Peach Ginger Ice Cream
Easy and creamy homemade peach ginger ice cream
Print
Pin
Rate
Ingredients
1 ½

cups

heavy cream

1 ½

cups

whole milk

¾

cup

sugar

Pinch

of fine sea salt

1

teaspoon

vanilla extract

4

egg yolks

1

generous cup Roasted Peach Ginger Compote

2

tablespoons

vodka

Krumkake for serving

optional
Special Equipment Needed:
Instructions
Place a fine mesh strainer over a medium bowl that is set inside a larger bowl containing ice and water. 

Whisk egg yolks and ¼ cup sugar together in a separate medium bowl.  Set aside.

Heat cream, milk, remaining ½ cup sugar and salt in a saucepan over medium heat until steaming and just below a simmer.

Slowly and pouring in a steady stream, ladle about 1 cup of the warm cream mixture into the yolks, whisking constantly.  Transfer the cream and egg mixture back to the saucepan with the remaining cream mixture. Cook over medium-low heat, whisking constantly, until mixture thickens and is just beginning to bubble.

Immediately strain custard through the prepared fine mesh strainer and add the vanilla.  Allow it to cool in the bowl over the ice bath, stirring occasionally, until the mixture has come to room temperature.  Cover and transfer the custard to the refrigerator to cool completely, at least 3 hours or up to 24 hours.

Transfer custard to an ice cream machine and churn according to manufacturer's directions.  Meanwhile, add the vodka to the Roasted Peach Ginger Compote and stir to combine. Add compote mixture to the ice cream during the last few minutes of churning, making sure that it is distributed thoroughly.  Transfer ice cream to an airtight container and freeze until ready to use. Serve in cones if desired.
Nutrition
Calories:
586
kcal
|
Carbohydrates:
45
g
|
Protein:
7
g
|
Fat:
41
g
|
Saturated Fat:
24
g
|
Cholesterol:
326
mg
|
Sodium:
81
mg
|
Potassium:
204
mg
|
Sugar:
42
g
|
Vitamin A:
1715
IU
|
Vitamin C:
1
mg
|
Calcium:
181
mg
|
Iron:
1
mg