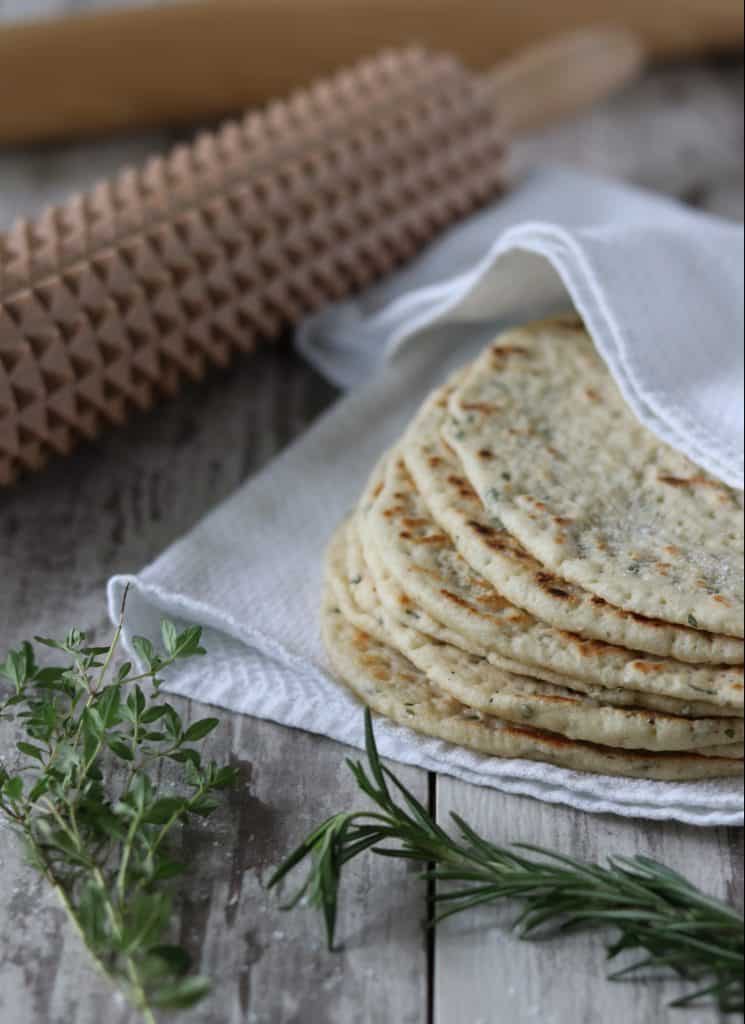 Nordic cuisine boasts a variety of flatbreads ranging from pillowy soft to cracker-like in texture. This delightfully soft and slightly chewy version hails northern Sweden where it is known as tunnbröd (literally "thin bread"). Usually made from some combination of wheat, barley and/or rye flour, tunnbröd is traditionally baked quickly in a hot wood-fired oven.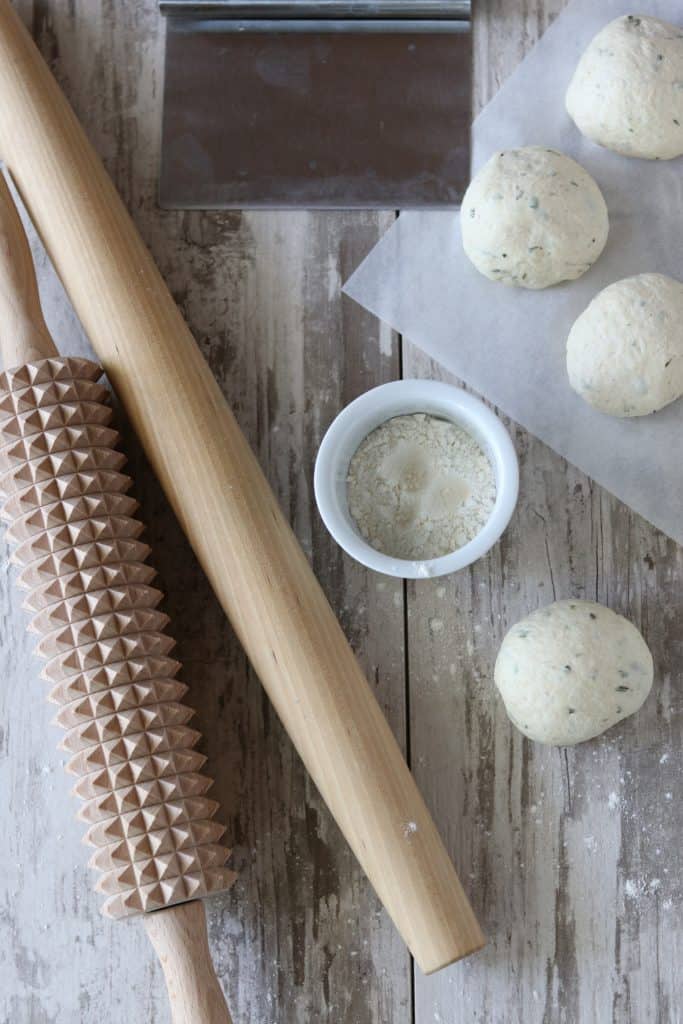 When I set out to develop my own recipe for a Nordic-style soft flatbread, I really had summertime wrap making in mind. We are in the height of summer produce season, and I wanted something soft and pliable to wrap around slices of fresh garden tomatoes and crisp cucumber, maybe with a dollup of hummus or garlicky skyr sauce drizzled on top. Think something in between a Mexican tortilla and Indian naan. This final version is an absolute winner…barley flour brings a subtle nutty sweetness to the bread and very little gluten which helps keeps these flatbreads tender and soft. A bit of skyr or greek yogurt and a little oil also contribute tenderizing qualities. I borrowed a trick from America's Test Kitchen's Bread Illustrated and misted the flatbreads with a spritz of water prior to cooking which also helped with softness. As I do not have a wood-fired oven, I opted for cooking the breads in a cast iron skillet which worked quickly and beautifully….only one minute of cooking on each side over medium heat. Continuing with my summer theme, I added chopped fresh rosemary and thyme from the garden for added freshness and flavor. The result? The perfect pliable vehicle for your summer wrap making needs.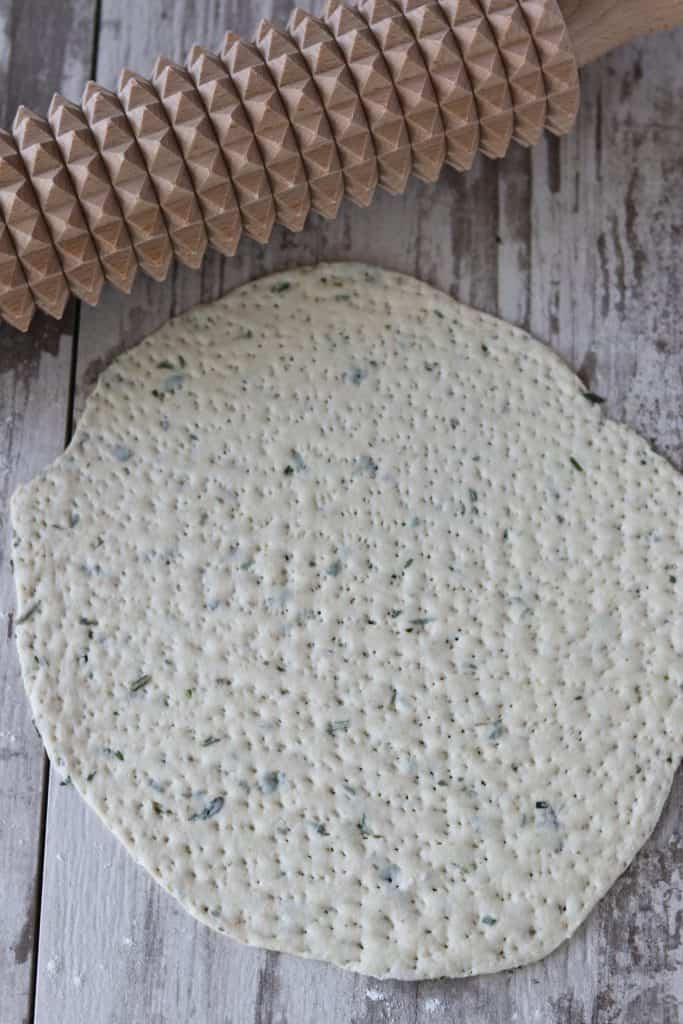 Tips for Flatbread Success
Tacky but not sticky dough and not too much flour. When the kneading process is completed, the dough should not be sticking to the sides or the bottom of the bowl. It should not be overly dry either. If you need to add additional flour in order to keep the dough from sticking to the bowl during the kneading process, do so one tablespoon at a time. Too much flour will make tough flatbreads.
Use very little or no additional flour when rolling out the dough. This might sound crazy, but I like to allow the dough to stick to the counter as I'm rolling it out. This allows me to get a nice thin flatbread and use as little flour as possible (which, as we just learned above, helps create a more tender flatbread). If you want to roll your dough without additional flour, you must use a dough scraper to help you release it from the counter. If the dough is sticking to the rolling pin, you will need to sprinkle a little additional flour on top to prevent that from happening.
Use a kruskavel to create small divots in the dough prior to cooking. This traditional Scandinavian bread baking tool (basically a spiky rolling pin) helps keep the flatbread thin and prevents it from puffing up while it's cooking. Alternatively, use a skewer or a fork to poke wholes in the dough. It won't give you that characteristic Nordic flatbread look but it will do the job.
Spritz the dough round with water before placing in the skillet and again before you flip the flatbread over to cook on the other side. This helps the outside from getting crusty and hard. Be sure to wipe any excess water off of your rolling surface before rolling the next flatbread.
Brush with a little melted butter and sprinkle with coarse salt once they are done cooking. Because who doesn't love melted butter?
Wrap the breads in a clean kitchen towel as they are cooling. This helps trap moisture and keep your flatbreads soft.
If you aren't eating them right away, freeze the flatbreads. I like to wrap them individually and just take them out as I need them and warm them in the oven.
Print
Soft Nordic Flatbreads with Garden Herbs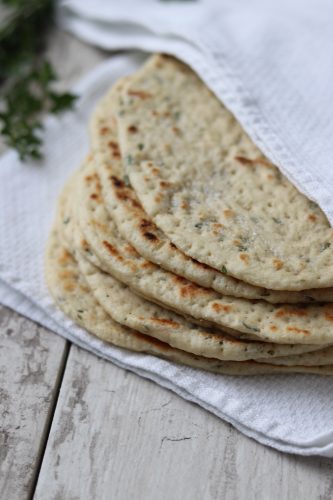 Soft Nordic-style flatbreads made with barley flour and studded with fresh garden herbs.  Perfect for dipping into hummus or making easy summertime wraps!
Author:
Prep Time:

15 minutes + 1 hour rising time

Cook Time:

30 minutes

Total Time:

1 hour 45 minutes

Yield:

8 flatbreads

Category:

breads

Method:

baking

Cuisine:

Nordic, Scandinavian
Ingredients
2 cups bread flour, plus an extra tablespoon or two if necessary and more for rolling the dough
¾ cup barley flour
1 ½ teaspoons instant yeast
1 teaspoon fine sea salt
1 teaspoon granulated sugar
1 cup water, room temperature
¼ cup plain whole-milk (4% milkfat) skyr or Greek yogurt
1 tablespoon canola oil, plus more for oiling the bowl and cooking the flatbreads
2 tablespoons chopped fresh herbs such as rosemary and/or thyme
1 tablespoon unsalted butter, melted
Coarse salt for sprinkling
Instructions
Whisk bread flour, barley flour, yeast, salt and sugar together by hand in the bowl of a stand mixer.

Whisk water, skyr and 1 tablespoon oil in a small bowl until fully combined.  Transfer wet ingredients into mixing bowl with dry ingredients.

Fit mixer with dough hook and begin mixing at medium-low speed until dough just comes together.  Increase mixer speed to medium and knead dough for three minutes. Stop the mixer and add the chopped fresh herbs.  If dough is sticking to the sides or the bottom after the first 3 minutes of kneading, add an additional tablespoon of bread flour before continuing the kneading process.  Continue kneading at medium speed until the dough is tacky but not sticky and clears the bottom and sides of the bowl, approximately 3 more minutes. Add an additional tablespoon or two of bread flour if dough continues to stick to the sides or bottom of the bowl during the kneading process.

Transfer dough to an oiled bowl.  Cover and let rise for an hour at room temperature or until doubled in size.

Transfer dough to a clean countertop and divide into 8 equal pieces.  Roll each piece into a rough ball. Cover with plastic wrap.

Add a teaspoon or so of canola oil  to a 12-inch cast iron skillet. Heat over medium heat.

Working with one piece of dough at a time, use a rolling pin to create a thin circular flatbread (like a thin tortilla).  If the dough sticks to the rolling pin, sprinkle a little flour on top. It's okay if the dough is sticking to the work surface.

Finish by rolling the flatbread a couple of times with a kruskavel or poking it at 1 inch intervals with a skewer.  Brush off any excess flour from the top of the dough.

Using a dough scraper and your fingers, gently release the flatbread from the countertop.

Wipe the oil from the skillet with a paper towel so that only a thin film remains.  Lightly mist the top of the dough with water and place in the heated skillet, misted side down.  Cook for one minute or until brown and spotty on the first side. Mist the top of the dough and flip it over with a spatula.  Cook for another minute. Remove the flatbread from the skillet and transfer to a plate. Brush lightly with melted butter and sprinkle with coarse salt.  Cover with a piece of parchment paper and stack a clean kitchen towel on top. Repeat the process with the remaining portions of dough. I like to turn off the burner in between cooking each flatbread to minimize any smoking of the cast-iron skillet.  Simply turn it back to medium and add a little oil as you finish rolling the next flatbread.

Eat immediately or wrap tightly and freeze once the flatbreads have cooled to room temperature.
Keywords: Nordic, Swedish, Scandinavian, flatbread, rosemary, thyme, soft, barley flour