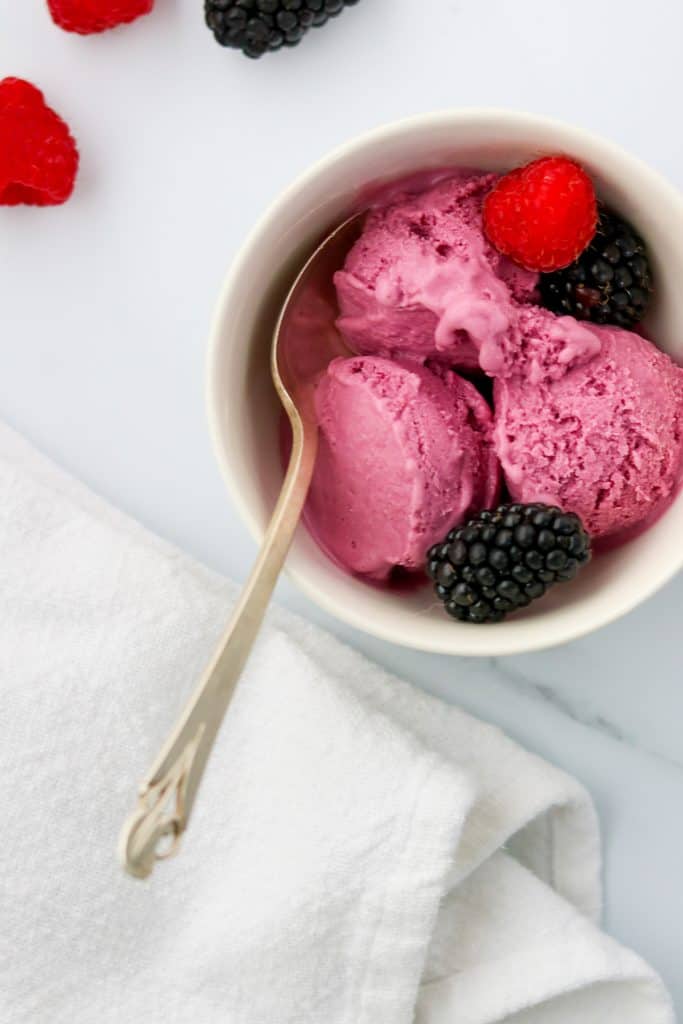 It's July and it is definitely time to dust off that ice cream maker! I've got a great recipe for an easy, creamy frozen yogurt that's bursting with berry flavor. It comes together in no time, and is a delicious way to beat the summer heat.
My recipe calls for skyr (Icelandic yogurt), but Greek yogurt works just fine here as well. Not familiar with skyr? Let me give you a little background.
WHAT IS SKYR?
Skyr (pronounced skeer) is a dairy product that has been an important part of Icelandic food culture for over a thousand years. Here in the United States, it is often marketed as the Nordic answer to Greek yogurt. In Iceland, however, skyr as technically considered a fresh cheese, something like quark, because of the addition of rennet in the recipe. Most commercial brands no longer use rennet to make skyr, just particular strains of probiotics that are unique to the product, and different from those used to make yogurt. Skyr is also strained, much like Greek yogurt is, which helps give it a thick, creamy texture and high protein content. It takes 4 cups of milk to make 1 cup of skyr.
The Best Choice: Full Fat
If you have never tried skyr, I would most definitely encourage you to! It's mild, creamy and delicious and available at many grocery stores nationwide. My only caveat is that for this recipe, it is best to use a brand of skyr or Greek yogurt that is full fat or at the very least, not nonfat. A higher fat content will result in a creamier texture and more luxurious mouthfeel which are all good qualities in a frozen yogurt.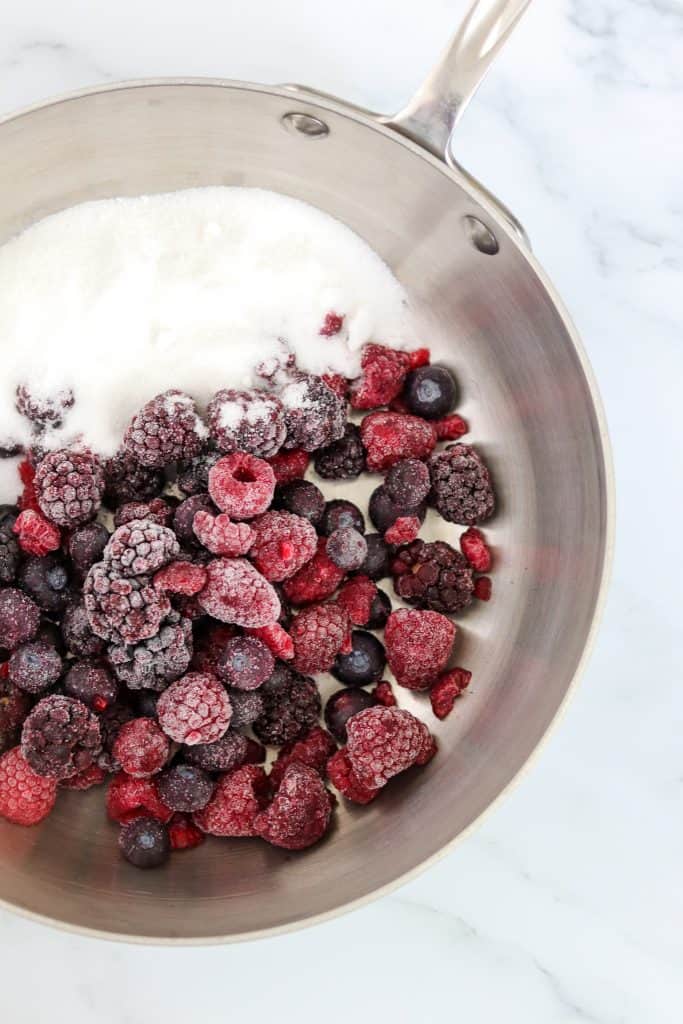 Frozen Berries for the Win
I have also made this recipe even more doable by using frozen mixed berries rather than a combination of fresh raspberries, blueberries and blackberries. Most stores carry a mixed berry blend in the frozen aisle, and they are just as tasty when used in an application like this as fresh berries. And that way you can have them on hand and whip this frozen skyr together whenever the mood strikes. Should you happen to have fresh berries, feel free to use them in place of the frozen.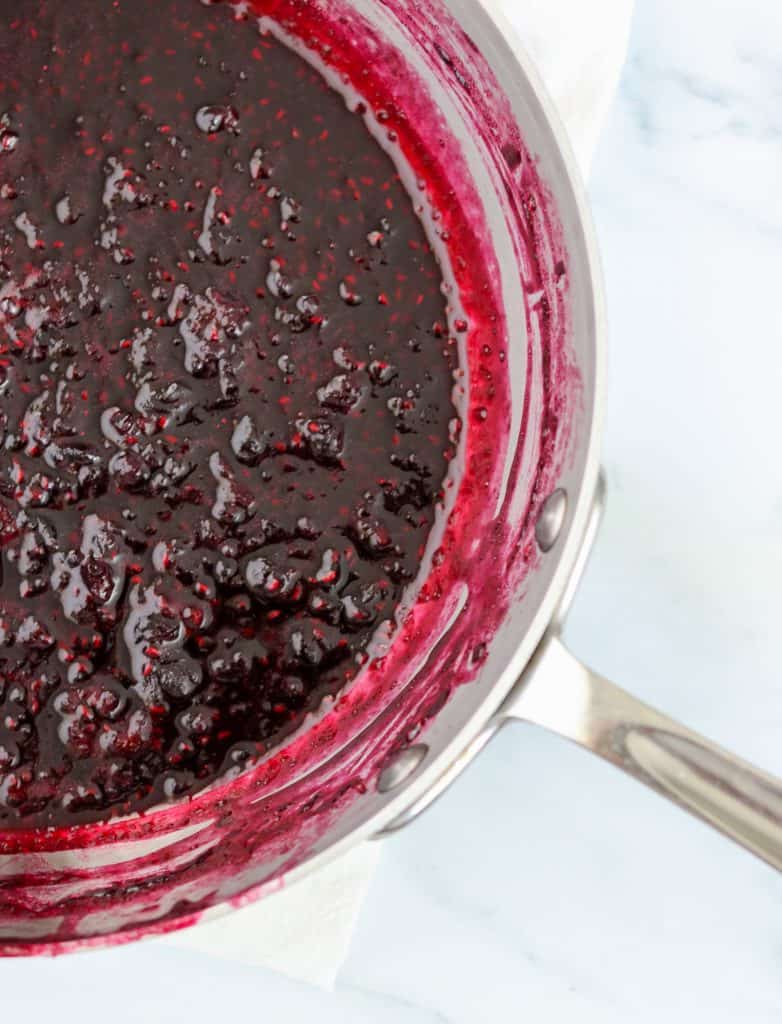 How To Make Frozen Skyr or Yogurt
The process of making frozen skyr or yogurt couldn't be easier:
Create your flavor base. In this case, we are making a mixed berry syrup that will add big berry flavor to the plain skyr or yogurt which serves as the foundation of the recipe. This is an easy process which involves cooking down the frozen berries and sugar for about 10 minutes and straining it through a fine mesh strainer to remove the skins and the seeds.
Whisk the flavor base together with some additional sugar, skyr and cream until everything is completely smooth.
Chill the mixture until it is VERY cold and churn according to the manufacturer's instructions for your particular ice cream maker. That's all there is to it!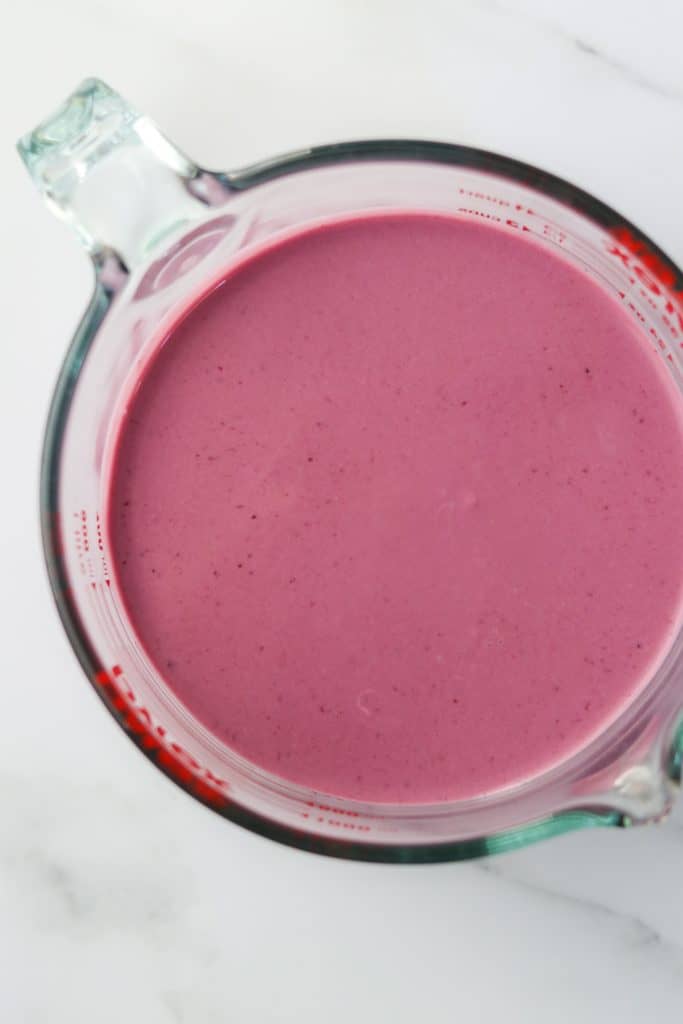 TIPS AND TRICKS FOR SMOOTH AND CREAMY FROZEN SKYR OR YOGURT
While frozen skyr or yogurt is incredibly straightforward and simple to make, it is a process, and there are definitely a few tips and tricks for ensuring that it's creamy and delicious every time:
Remember to freeze the work bowl of the ice cream machine in advance. Frozen skyr or yogurt making is not for the impulsive, the impatient or the spontaneous. It's an activity that rewards planning and preparation. The work bowl of your ice cream maker must be thoroughly chilled prior to successfully churning frozen skyr or yogurt. See the manufacturer's instructions for specific details for your particular model, but this may take anywhere from 24-48 hours. During the summer months, I just keep the work bowl in the freezer so that when I'm ready to make a batch of ice cream it's ready to go.
Make sure to use a higher fat dairy product. As I mentioned above, full fat skyr or Greek yogurt makes the creamiest frozen yogurt with the most luxurious mouthfeel.
Don't skimp on the cooling time prior to churning. To prevent ice crystal formation, it's important to make sure that the mixture is good and cold before it goes into the ice cream maker. I almost always make my skyr base one day and churn it the next.
Set the frozen yogurt out for 15-20 minutes prior to scooping and serving. Once you churn and freeze the finished frozen skyr for a significant period of time, it will be hard and difficult to scoop. Simply let it sit out at room temperature for a little while before serving and it should be perfectly scoopable.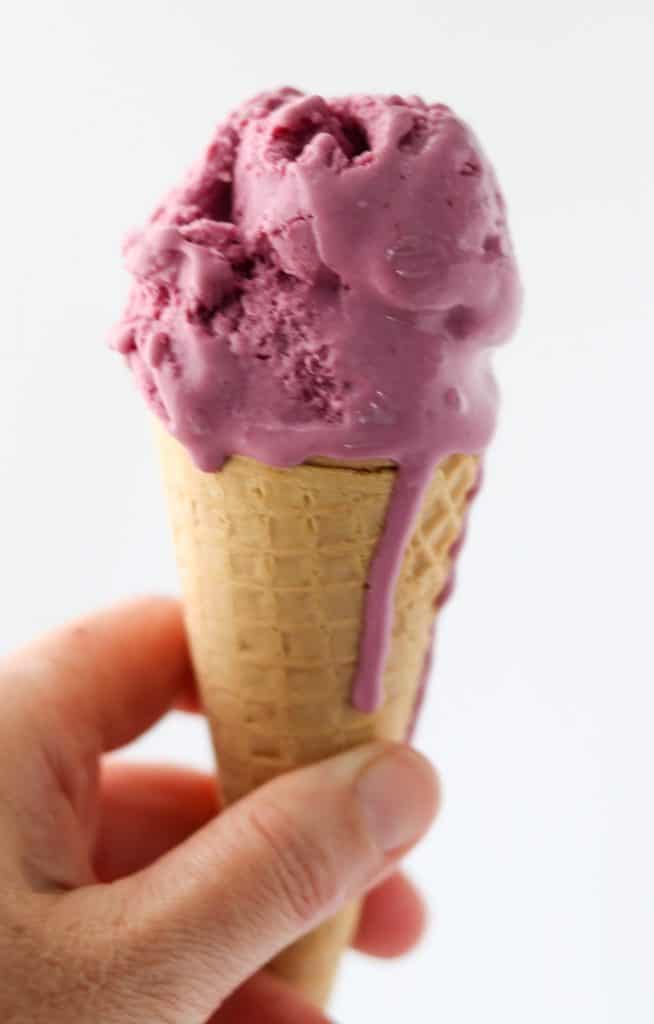 If you really want to bring some Scandi vibes to this Nordic Wildberry Frozen Skyr, remember that krumkake makes a great homemade ice cream cone. Need more frozen dessert ideas? Don't miss this Roasted Peach Ginger Ice Cream recipe. SO delicous!
And now that you are a skyr fan, how about adding a few more skyr recipes to your repoirtoire? I've got several really delicious ones here on the blog:
Please give this Nordic Wildberry Frozen Skyr a try and let me know how it goes in the comments below. I love hearing from you!
Nordic Wildberry Frozen Skyr
A delicious and creamy homemade frozen yogurt featuring a mix of blackberries, blueberries and raspberries.  Perfect for hot summer days!
Print
Pin
Rate
Ingredients
2 ½

cups

frozen mixed berries

raspberries, blueberries and/or blackberries fresh berries are also fine

1

cup

granulated sugar

divided

1 ½

cups

skyr

Icelandic yogurt or Greek yogurt (NOT nonfat, preferably full fat)

½

cup

heavy cream

1

teaspoon

vanilla extract

Pinch

of fine salt
Instructions
Combine frozen berries and sugar in a saucepan and heat over medium.  As the sugar dissolves and the berries begin to release their juices, use a potato masher or the back of a fork to help the berries break down.  Continue to cook over medium-low, stirring and mashing frequently, until the berries have broken down and the mixture is syrupy, about 7-10 minutes.  Transfer to a fine mesh strainer set over a bowl and strain, pressing down with a rubber spatula to make sure to get as much of the berry syrup while leaving the seeds and skins behind.  Discard the seeds and skins in the strainer.

Add remaining ½ cup of sugar to the warm berry syrup and whisk until the sugar has completely dissolved.  Whisk in skyr, cream, vanilla and salt until the mixture is completely smooth.  Cover and chill the mixture until it is very cold, at least three hours.  Churn according to manufacturer's instructions in an ice cream machine.

Either enjoy immediately (frozen yogurt will be a soft-serve texture at this point), or transfer to a freezer-safe, sealed container and freeze until firm before serving.  If frozen skyr is too firm to scoop, set out at room temperature for 15-20 minutes before serving.
Notes
Adapted from Sift Magazine, Spring 2016
Nutrition
Calories:
524
kcal
|
Carbohydrates:
87
g
|
Protein:
12
g
|
Fat:
16
g
|
Saturated Fat:
9
g
|
Cholesterol:
59
mg
|
Sodium:
53
mg
|
Potassium:
241
mg
|
Fiber:
3
g
|
Sugar:
81
g
|
Vitamin A:
643
IU
|
Vitamin C:
3
mg
|
Calcium:
146
mg
|
Iron:
1
mg